Intel invests $7 billion to complete the Fab 42 factory where it will produce 7nm chips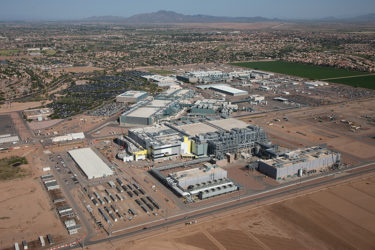 The high-tech factory for semiconductors Fab 42 was first announced back in 2011 and was originally supposed to begin production in 2013. However, due to financial reasons, the project was put on hold but not anymore. Intel CEO Brian Krzanich made an announcement at the White House that the company will invest $7 billion to complete the factory in Chandler, Arizona.
Intel's expectations are to complete the construction in three to four years and start producing 7nm chips by that time. The company also claims that this will be the world's most advanced semiconductor factory and that it will provide a total of 10 000 new jobs. 3000 of them will be "high-tech, high-wage" jobs for engineers, technicians, and others while the other 7000 workplaces will be taken by not that highly-technical personnel that will support the facility.
According to Brian Krzanich: "This factory will help the U.S. maintain its position as the global leader in the semiconductor industry." he adds "Our factories support jobs — high-wage, high-tech manufacturing jobs that are the economic engines of the states where they are located."
The expected completion of Fab 42 in three or four years gives us a lead that we won't see 7nm chips anytime soon. We guess that for now, Intel is more focused on projects like Cannonlake or tackling the rising competition that it sees in the face of AMD's upcoming Ryzen processors.
Meanwhile, you can check all available notebooks powered by Intel here: http://amzn.to/2kL5FKg