Intel's latest Graphics Driver brings improvements and automatic optimization for games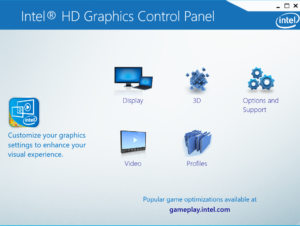 Intel recently released a new version of the Graphics Driver – 15.65.3.4849 available for 64-bit Windows 10 on 6th, 7th and 8th generation processors. The new drive promises many improvements and optimizations but most interesting might the fact that it will try to optimize your settings for a specific game automatically similar to NVIDIA's GeForce Experience.
You can follow this link for more information, release notes, upcoming titles, and download.
Visit our Laptops Specs system to find all currently available notebooks with integrated HD Graphics.
Some notable changes and improvements are:
Enhanced performance of graphics workloads with intelligent power management under maximum load (6th gen and up)
Improved performance in video encoding for all codecs
Optimized memory usage for HEVC Encoding
Improved Vulkan* memory usage
Power saving optimizations during video playback and UHD gaming (7th gen and up)
The highlight is on the Intel Graphics Control Panel. This feature was previously available but you had to use it manually. From now on, it will optimize your games automatically. The feature is still under development and the list of supported titles is limited. It will be available for all processors from 6th generation and that feature the HD Graphics 620 or better including the new 8th gen Kaby-Lake G CPU's with integrated Radeon RX Vega M Graphics.
At the moment the supported titles are Battlefield 1, Battlefield 4, American Truck Simulator, Call of Duty WWII, Destiny 2, Dota 2, Grand Theft Auto V, League of Legends, Overwatch, and World of Tanks for HD Graphics 620 or better.
Optimizations for Iris Pro Graphics also include Kingdom Come: Deliverance, Street Fighter V: Arcade Edition, and Metal Gear Survive.