Lenovo's ultra-budget Ideapad 110 adopts a user-friendly screen with extremely high-frequency PWM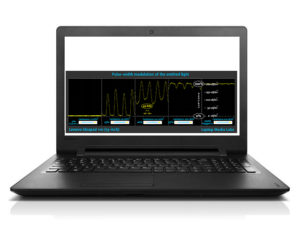 Good news for users who don't want to spend a lot of money on a laptop aimed for everyday usual tasks and browsing but want a flicker-free display. We just tested out the Ideapad 110 shortly after arriving in our office for PWM and turned out to be positive.
You can find the notebook's current price and configurations here: http://amzn.to/2cpqgBG
But there's a big BUT. The panel at hand, which is a TN HD (1366×768) matrix manufactured by LG with model number LP156WHU-TPG1, uses PWM at extremely high frequency – 40 kHz. And as most of you already know, as higher the frequency gets, the better. This means that less stress is put on your eyes so at 40 kHz even users with extra sensitive eyes shouldn't worry about the nasty aftermath of using a PWM-regulated display – headaches, eye soreness etc.
This is a huge advantage to consider as there aren't many laptops on the market costing as little as $300 and don't have displays without PWM. Stay tuned for the rest of the tests like battery life, performance and temperatures in our full review.