LG G4 doesn't offer a lot of improvement over its predecessor in terms of battery life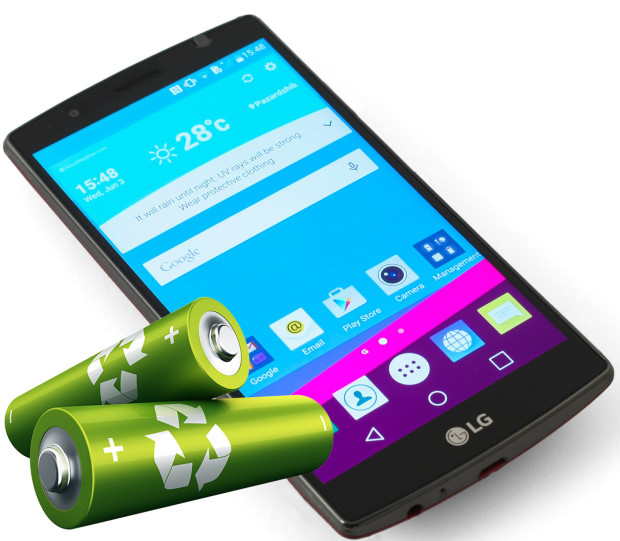 We are still working on our LG G4 review and you can expect it any day now. In it you will find every bit of information you may want to know about the device. Some of the tests and benchmarks we run are to see how the SoC performs, how long will the battery last in different scenarios, and how much does the device heat up after heavy usage. Today we would like to look at battery life.
LG G4 has a 3000 mAh battery, just like its predecessor LG G3. The display size of both smartphones is the same – 5.5 inches and the resolution is QHD (1440 x 2560 pixels). The SoC in LG G4 is the hexa-core Qualcomm Snapdragon 808, that has 2x Cortex-A57 cores at 1.82 GHz and 4x Cortex-A53 cores at 1.44 GHz. The idea behind the four Cortex-A53 cores is for them to deal with light apps and tasks and this way improve battery life, since they are not as power consuming as the higher clocked Cortex A-57 cores. LG G3 has the Qualcomm Snapdragon 801 SoC with 4x Krait 400 cores at 2.5 GHz.
Normally, we would expect the successor to the LG G line to have longer battery life, but apparently we had set our hopes too high.
You can see LG G4's results in our usual test, which were performed under the same conditions as always – 120 cd/m2 brightness, Wi-Fi on, 3G and GPS off, below and also compare them to its predecessor LG G3.
In our Web Surfing test LG G4 held up for 470 minutes (7 hours and 50 minutes), which is a good result and is also slightly higher than that of the LG G3, which got 466 minutes (7 hours and 46 minutes).
The 3D gaming test is simulated by running the Epic Citadel benchmark on a continuous loop. The result that LG G4 got is 188 minutes (3 hours and 8 minutes), which is considerably worse than the G3 – 219 minutes (3 hours and 31 minutes).
At video playback, the G4 managed to stay "alive" for 478 minutes (7 hours and 58 minutes), which is not a bad result at all, but compared to that of the G3, it seems disappointing. LG G3 got 567 minutes (9 hours and 27 minutes) in this test.