Meet the new INFAREX M10 – ADATA 3200DPI gaming mouse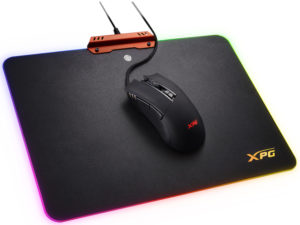 Another day, another intriguing ADATA product part of the XPG gaming series – the INFAREX M10 mouse which is accompanied by the INFAREX R10 mousepad. Both of these devices sport RGB lighting effects in order to facilitate the appropriate fancy atmosphere for your gaming sessions. Additionally, the M10 and R10 have been designed in such a way as to provide you with comfort when playing for long hours – the ergonomic curve should protect you against wrist pain.
Check all currently available ADATA products here: Buy from Amazon.com
As for some of the specifications, the mouse offers 3200DPI optical sensitivity and a built-in DPI switch. The latter further enhances the accuracy and precision. The lights can be configured in three modes to best suit your preferences. What's more, you can switch between these modes by only tapping on the mousepad. It is also good to know that this pad is made of scratch-resistant PVC materials. There is also a DPI button allowing you to change the sensitivity really fast.