Mozilla released overhauled Firefox 40 with neat features for Windows 10 and we are now testing it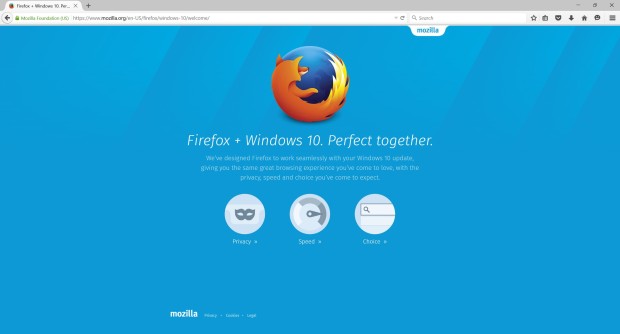 With all the hype around Windows 10 users are still searching for a good alternative to do their browsing with since Edge is still in the works and doesn't support add-ons. So here's where Firefox steps in with the latest version offering cool new features.
Firefox steps up the game with improved scrolling animations, better video playback performance and more, but more importantly you can now set Google as a default search engine in the search box in Windows 10's search box. This way you can search directly on the web using Google as a search engine and Firefox as a default browser to open the content. Furthermore, Mozilla promises that the add-ons will now be more secure as the company will start to certify every single third-party add-on. Most of the features are also included in the new Firefox 40 across Mac, Linux and Android.
The competition here is getting fierce and we would like to see how Google will take its rivals with Chrome and how Microsoft will develop Edge in the future as the latter seems really promising. We are conducting series of performance tests on the almost all of the browsers available for Windows 10 and see how the stack up against each other so stay tuned for the full article.
If you still haven't downloaded the latest version of Firefox, you can do it here: https://www.mozilla.org/en-US/firefox/products/?icn=tabz