MSI GP62M 7REX Leopard Pro uses PWM from 0 do 21% brightness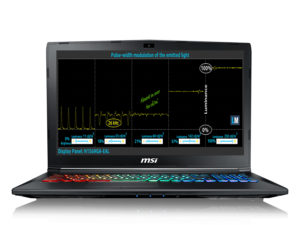 The results we got from the conducted tests regarding the MSI GP62M 7REX Leopard Pro screen quality show that the panel uses PWM from 0 to 21% brightness. However, there is also some good news – the display flickers at high frequencies (26 kHz) which significantly reduces the negative effect, making the laptop comfortable to use for long periods of time in this aspect.
You can check prices and configurations: Buy from Amazon.com (#CommissionsEarned)
In other words, the screen flickers only up to 60 nits of luminance and this will affect only buyers with particularly sensitive eyes. However, if you find that disturbing, we have a solution for you and it is our Health-Guard profile, which eliminates PWM and also reduces the negative blue light emissions.
We also suggest browsing our PWM ranking for laptops with similar or better PWM rating in case you haven't made up your mind which notebook to go for.
Stay tuned for our detailed review.