MSI GT83VR Titan with two GTX 1070 with 33% off for Black Friday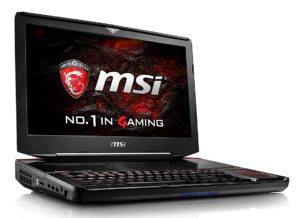 Today we came across a huge Black Friday discount for you enthusiastic gamers out there. You can get a truly high-performance gaming notebook – the MSI GT83VR Titan – with 33% off. The original price was $3699.00 but now it can be yours for $2469.99. This means $1229.01 off which is a price you can get another budget gaming notebook for.
The MSI GT83VR Titan is not your ordinary gaming notebook equipped with the Core i7-7700HQ and a GTX 1060 or above, it is much much more powerful. It is powered by the 6th gen Core i7-6820HK which is unlocked for overclocking and backed by 64GB of DDR4 RAM and two 256GB NVMe SSDs.
But that is not the most thrilling part of the configuration. What might be the unique factor of this laptop is the fact that it runs not one but two GTX 1070 GPUs in SLI. With these specs, it will surely feel like you are carrying your desktop around though you will probably avoid moving it too much as it weighs 11.59 lbs.
Another rarely seen feature of the MSI GT83VR Titan is the large screen size it offers. You get an 18.4-inch display with Full HD (1920 x 1080p) resolution. As every other product by MSI, the GT83VR Titan features a plethora of amazing features to enhance your gaming experience such as a SteelSeries keyboard, True Color Technology, Nahimic 2+ audio and many more.
You can check out the available deal over here: http://amzn.to/2iZb6oi
You can also check out the different configurations and their detailed specs in our Laptops Specs system below: