MSI's PX60 6QE has a disappointing battery life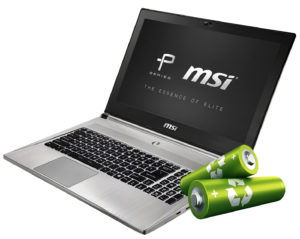 Yes, we said that the MSI PX60 6QE is an excellent blend between a gaming laptop and a workstation but what appears to be the trade-off here is the battery life. With this powerful, quad-core, high-voltage Core i7-6700HQ CPU on board, the 47.31Wh unit just can't keep up with the demand.
You can find some of the available configurations here: http://amzn.to/2hbY71m
However, we suspect that the capacity of the battery isn't the only reason for the poor results. We noticed that at least one of the laptop's fans is constantly spinning even when idle or not fully loaded. With the fans always spinning, it's only logical that the battery gets drained faster than it should. We will continue investigating the issue and will look for a workaround.
But for now, we will at least tell you what are the results from the tests. On the web browsing test, the laptop scored merely 195 minutes (3 hours and 15 minutes) and just 205 minutes (3 hours and 25 minutes) while playing video. That's quite less than some similarly priced rivals offer in terms of endurance – the Lenovo Y700, ASUS ROG GL552VW, Acer Aspire V15 Nitro Black Edition but more importantly, the ASUS N552VX.