No worries, you can stare at the ZenBook Pro UX501's UHD screen for as long as you want. No PWM above 25% brightness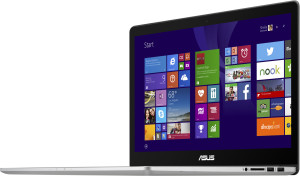 We come across some pretty good IPS panels now and then, but the whole experience is somehow ruined when we detect low-frequency PWM that can actually damage your eyes or at least lead to an eye fatigue.
However, we are pleased with the results that came in today from the PWM test. It seems that screen flickering occurs only below 25% brightness and even then the frequency is above 1.35 kHz, meaning it's less harmful to your eyes. Furthermore, you will end up using the screen way above 25% brightness as this is really low luminosity that would be useful only in really dark rooms. You can see the result on the graph below.