Now's your chance to grab the cheapest high-end gaming notebook with GTX 980M and native G-Sync support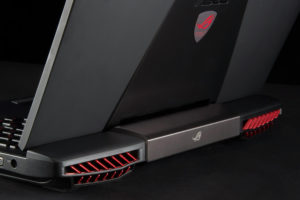 For the past year, major OEMs have been pushing high-end gaming laptops and most of them feature the mobile NVIDIA GeForce GTX 980M GPU but, of course, all that performance comes at a price and not everyone can afford it. However, you are in luck because the previous generation ASUS ROG G751 is selling for a decent amount of money and it's quite literally a bang for the bucks.
Yeah, sure, the CPU isn't from the latest Skylake generation but if you consider yourself a general user looking for a powerful gaming notebook, the chances are that you won't feel the difference between the new Core i7-6700HQ and the older Core i7-4720HQ. The 6th generation processor brings marginally better performance and reduced power consumption but the Core i7-4720HQ can still handle the latest games with ease. And while paired with the GTX 980M and 16GB of DDR3 RAM, you got yourself a fully capable gaming beast for just $1 479.
But wait, there's more. The ASUS ROG G751 we are talking about is the refreshed version that features the so-called G-Sync technology inside the 17.3-inch Full HD IPS panel with 75Hz refresh rate. This will guarantee smooth gameplay even on the highest settings. It's definitely a good bargain, as long as you are not a gaming enthusiast that likes to spend a few extra hundred bucks on the newer G752 version.
If you still aren't convinced, check out our full review of the model including thermal tests, screen quality checks, and performance results.