NVIDIA announces Destiny 2 bundle for GTX 1080 and GTX 1080 Ti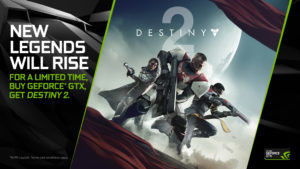 NVIDIA announces yet a new gaming bundle. This time you will get the highly-anticipated Destiny 2 with the purchase of a GTX 1080 and GTX 1080 Ti. This will save you around $99.
The bundle will be available for select GTX 1080 and 1080 Ti graphics cards, some notebooks and even with NVIDIA'a own GeForce Battlebox systems. The bundle includes a copy of the Destiny 2 which you will get on launch date (October 24th for PC and September 6th for consoles) and early PC beta keys which should be available in late August.
It is important to say that Destiny 2 will only be available trough Blizzard App.
If you are interested in this bundle, you should hurry up because the offer is available for only two weeks – from today to June 27th. Destiny 2 Early Beta Access codes can only be used through the life of the beta while the "Destiny 2 game codes may only be redeemed until 30 days after PC launch date." Codes must be redeemed through GeForce Experience.
You can check the offer over here. Meanwhile, you can check all NVIDIA products over here: http://amzn.to/2inSKeA