NVIDIA GeForce 1040 is coming, Lenovo IdeaPad 320s is getting it first! (+price)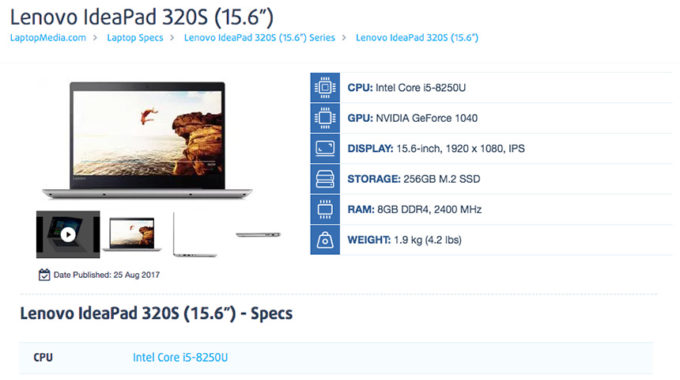 NVIDIA Pascal GPUs have been on the market for quite a while but of course, the Californian company released the higher end graphics cards first. Last month, NVIDIA released the new MX150 and LaptopMedia was the first to show you its capabilities. Long story short – it has almost the same performance as the GeForce GTX 950M with GDDR5 memory (See our Top Laptop GPU Rankings).
Now NVIDIA is preparing another budget-friendly GPU codenamed GF1040/GeForce 1040. We're not sure whether or not this name will be final or NVIDIA will brand it as MX140 but we have information that one of the latest Lenovo IdeaPad models (320s) already has a configuration with the new GPU and the new Intel Core i5-8250U.
At the moment we know the price for Europe only – 759 EUR (i5-8250U, 8GB RAM, 256GB SSD) which equals to $899, although we're pretty sure that the US price will be much lower – between $699 and $799.
You can find the detailed specs of the new Lenovo IdeaPad 320S with GeForce 1040 in our Specs System:
http://laptopmedia.com/laptop-specs/lenovo-ideapad-320s-15-6/