NVIDIA GeForce 384.94 Game-Ready drivers are available for download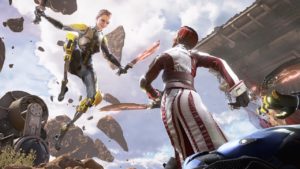 NVIDIA's latest version of the GeForce Game-Ready drivers is available for download today. Version 384.94 addresses a lot of issues and brings bug fixes. As every other Game-Ready driver, this one also brings support for the latest released titles.
The latest version brings support for Lawbreakers  and ARK: Survival Evolved. Version 384.94 also provides support for EVE: Valkyrie's "Ultra" graphics update.
Other than that, a lot of crashes, issues, freezes and poor performance scenarios were fixed. You can check the changes list below:
Meanwhile, you can check out all available NVIDIA products over here: http://amzn.to/2inSKeA
Changes and Fixed Issues
[SLI][GeForce GTX 980][IL2-Sturmovik Battle of Stalingrad]: There is no performance improvement under DirectX 11 after enabling SLI. [1903543]
[Star Ruler 2]: The game crashes within minutes of gameplay. [1945976]
[Titan Xp][Mass Effect – Andromeda]: After launching the game in full-screen mode, HDR cannot be enabled from the in-game HDR settings. [200315052]
[GeForce TX 1070/1080][Shadow Warrior 2]: Windows HDR settings conflict with in-game HDR settings, resulting in color over-saturation. [1882582]
[GeForce GTX 970][Gears of War 4]: The game may freeze with Release 384 drivers.[1954654]
[GeForce GTX 780/780 Ti][NieR:Automata]: The screen may freeze during gameplay. [1892334]
[Titan X][Watch Dogs 2]: The game may crash when launched. [1952270]
[GeForce GTX][DNF]: Poor game performance. [1936955]
[Windows Store – Channel 9 / rPlay]: In full-screen mode, the application playback becomes choppy and then the application crashes. [1953090]
[GeForce GTX 980][DisplayPort]: There is no signal on the monitor after turning the monitor off and then back on. [1904801]
Windows 10 Issues
[SLI][GeForce GTX 780 Ti]: There is no display output when connecting the DisplayPort and two DVI monitors. [1835763]
[GeForce GTX 1070][Surround]: The [Ctrl+Alt+S] keyboard shortcut does not enable or disable Surround. [1932397]
[GeForce GTX 1070][Doom]: The GPU clocks remain running at high performance speeds after exiting from the game. [1954033]
[GeForce GTX 970][Quantum Break]: Drop in frame rate occurs when playing the game. [1955903]
You can download the latest version of NVIDIA GeForce Game-Ready drivers from HERE.
Meanwhile, you can check out all available NVIDIA products over here: http://amzn.to/2inSKeA