NVIDIA GeForce GTX 970M in Gigabyte P34W – benchmarks and gaming tests with the latest NVIDIA drivers (355.98)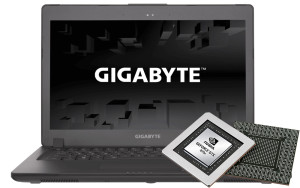 Gigabyte P34 is not your common gaming machine – it weighs 1.8kg and has a thickness of just 20.9 mm. Yes, it feels more like an "ultrabook" than a gaming beast but P34 sports NVIDIA GeForce GTX 970M GPU with 3GB GDDR5 memory (see rankings) and Intel Core i7-4720HQ processor (see rankings).
We're testing the notebook for an in-depth review but until it's ready, we would like to share with you how the machine manages to handle our gaming tests, which is very interesting given the ultra slim body. We also don't know what to expect from the cooling system whose performance is crucial for good gaming experience.
We ran GTA V, Metro: Last Light, Tomb Raider, Thief and F1 2015 at minimum, medium and high graphics settings, and in two resolutions – HD and Full HD. Take a look at the results…
You can check the current price of Gigabyte P34W here: http://amzn.to/1NJ5qbJ

Gaming Tests

| | Metro: Last Light (Low) | Metro: Last Light (Medium) | Metro: Last Light (Max) |
| --- | --- | --- | --- |
| HD (1366 x 768) | 87 fps | 71 fps | 50 fps |
| Full HD (1920 x 1080) | 73 fps | 69 fps | 32 fps |


| | Tomb Raider (Low) | Tomb Raider (Medium) | Tomb Raider (Max) |
| --- | --- | --- | --- |
| HD (1366 x 768) | 322 fps | 177 fps | 84 fps |
| Full HD (1920 x 1080) | 245 fps | 116 fps | 57 fps |


| | F1 2015 (Low) | F1 2015 (Medium) | F1 2015 (Max) |
| --- | --- | --- | --- |
| HD (1366 x 768) | 93 fps | 84 fps | 77 fps |
| Full HD (1920 x 1080) | 84 fps | 69 fps | 54 fps |


| | Thief (Low) | Thief (Medium) | Thief (Max) |
| --- | --- | --- | --- |
| HD (1366 x 768) | 60 fps | 57 fps | 55 fps |
| Full HD (1920 x 1080) | 57 fps | 55 fps | 46 fps |


| | GTA 5 (Low) | GTA 5 (Medium) | GTA 5 (Max) |
| --- | --- | --- | --- |
| HD (1366 x 768) | 127 fps | 79 fps | 38 fps |
| Full HD (1920 x 1080) | 115 fps | 53 fps | 25 fps |
You can check the current price of Gigabyte P34W here: http://amzn.to/1NJ5qbJ