NVIDIA introduces the GeForce MX150 mobile graphics card
It has been a while since the GeForce 10 series graphics cards are on the market and today every modern gaming device utilizes one. What was groundbreaking when they initially released was that there was no separate mobile version of every chip – you get almost the same experience on both laptop and desktop. This is about to change sort of.
Meanwhile, you can check out all NVIDIA products over here: http://amzn.to/2inSKeA
NVIDIA is introducing the GeForce MX150 graphics chip based on the same advanced power-efficient architecture as the GeForce 10 series – Pascal. However, the MX150 is designed for low-end notebooks to boost the graphics performance beyond the capabilities of an integrated GPU without the extra cost and lower battery life.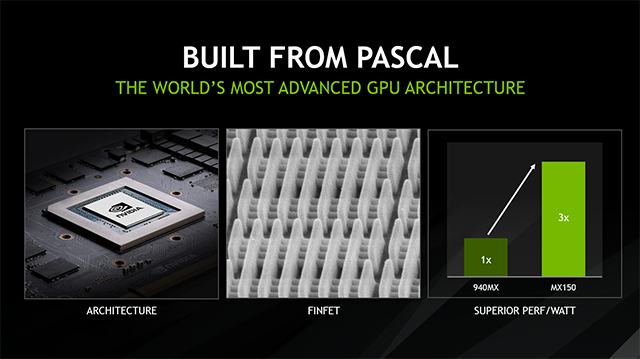 The GeForce MX150 can be looked at like the direct successor to the famous GTX 940MX from the previous Maxwell-based generation which was used in many budget notebooks that wanted to provide just a bit more graphics power. NVIDIA claims that the MX150 will enable light gaming and photo and video editing to the mainstream user that just wants to get the job done.
NVIDIA claims that the GeForce MX150 can run all the GPU-accelerated applications that a graphics designer or a photographer would need and it will do it up to 2.5 times faster for photo editing and up to 4 times faster for video remastering than the average integrated GPU that we see in most Core processors. The illustrations that NVIDIA provides shows us that the graphics card would allow the user to work with applications like Adobe Photoshop and Illustrator as well as Sony Vegas and Video Studio. The graphs also show that the MX150 is about 20 to 30 percent better than the 940MX.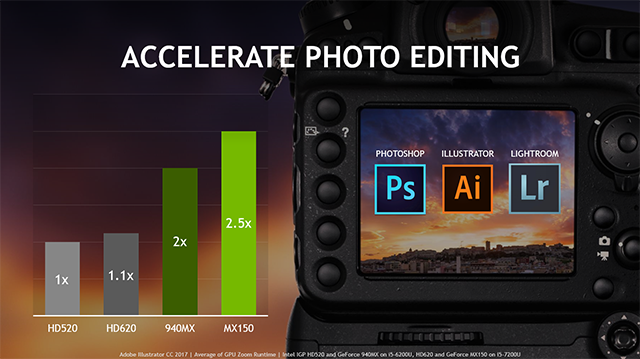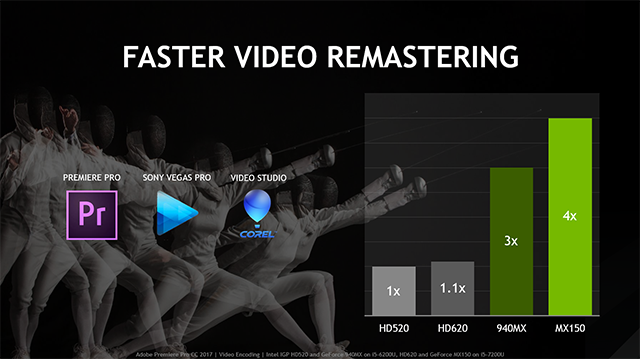 The "green company" also claims that the new mobile GPU will allow much smoother gaming than its iGPU counterparts:
Whether your go-to game is Dota 2, Counter-Strike: Global Offensive, League of Legends, or World of Tanks, you'll be able to play at full HD resolution at a smooth 60 frames per second.
Getting a solid frame rate of 60 on 1080p resolution when playing some eSports titles is just what most casual users want when they are blowing off some steam after a hard day at work. In other words, this could potentially be the beginning of a new generation of ultra low-budget gaming notebooks. The MX150 also comes with some neat features like GeForce Experience which will provide optimized graphics settings and automatic driver updates to ensure smooth gameplay.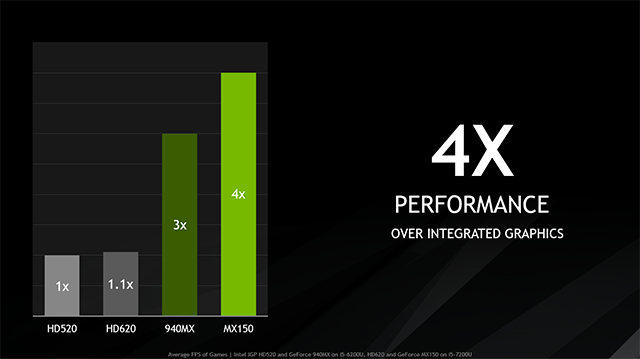 Other GeForce-exclusive features like NVIDIA Optimus and GPU Boost are also present. These features will enhance your GPU's performance by dynamically optimizing resources and utilization thus decreasing power usage and increasing battery life.
Unfortunately, there are no in-depth specifications about the graphics card nor there are a specific release date or pricing announced. However, NVIDIA's post says that we have to look for the GeForce MX150 in laptops from Acer, Asus, Clevo, HP, and MSI and that some of them will start global shipping from June so we can expect to learn more sooner rather than later.
I myself am a big fan of budget devices. That's why I am positive that if the laptops featuring the GeForce MX150 come at the right price they will definitely spark a new segment between the ultra low-budget devices and low-end gaming notebooks featuring Geforce 1050 and 1050 Ti cards. What do you think about this move from NVIDIA? Will it leave a trail or just be a rather unsuccessful product? Share your opinion in the comment section below.
Meanwhile, you can check out all NVIDIA products over here: http://amzn.to/2inSKeA