NVIDIA releases latest GeForce Game Ready drivers – version 391.01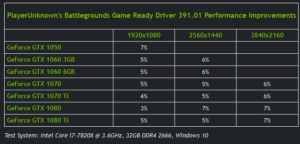 Yesterday NVIDIA released its latest version 391.01 of its GeForce Game Ready drivers bringing support for all the new and upcoming titles as well as a lot of improvements and bug fixes. The highlight is set on the GameReady improvements for the highly anticipated Final Fantasy XV – Windows Edition's release, Warhammer: Vermintide 2, and the World of Tanks' graphics engine upgrade.
This release also delivers performance improvements for almost all 10-series GPUs in Player Unknown's Battlegrounds. These improvements range from 3 to 7 percent but every small bump is welcome. You can see the exact numbers by clicking on the picture on the left.
You can follow this link to download the latest GeForce Game Ready drivers. You can also visit our Laptops Specs system to check out all currently available notebook equipped with an NVIDIA GPU that can take advantage of the updated drivers.
Below is a list of all major fixes and updates:
Added or updated the following SLI profiles:
Added or updated the following 3D Vision profiles:
Final Fantasy XV Windows Edition – Not recommended
Surviving Mars – Good
Switchblade – Not recommended
Warhammer: Vermintide 2 – Fair
Fixed Issues in this Release
[BeamNG]: Dynamic reflections flicker in the game. [2057342]
[Call of Duty WWII]: Flickering shadows occur in the game. [2053929]
NvfbcPluginWindow prevents Windows from shutting down. [2053927]
Booting from a cold boot results in black screen on a multi-monitor system. [2052447]
[3DVision]: System shutdown time increases when Stereoscopic 3D is enabled. [2048107]
[NVIDIA Control Panel]: The Display->Adjust desktop color settings->Content type setting is reset to "Auto-selected" after rebooting the system. [2047088]
[GeForce GTX 980/1080 Ti]: OpenGL program may crash when trying to map a buffer object. [2044697]
[Notebook][GeForce GTX 965M]: Drop in GPU performance occurs. [200379911]
Windows 10 Issues
[NVIDIA TITAN V][G-Sync]: G-Sync displays may go blank when switching between different overclocked memory clocks multiple times. [200361272]
[SLI][GeForce GTX 780 Ti]: There is no display output when connecting the DisplayPort and two DVI monitors. [1835763]
[GeForce TITAN (Kepler-based)]: The OS fails after installing the graphics card on a Threadripper-enabled motherboard. [1973303]
[Pascal GPUs][Gears of War 4]: Blue-screen crash may occur while playing the game. [2008731]
[GeForce GTX 1080 Ti][Doom]: The game crashes due to the driver reverting to OpenGL 1.1 when HDR is enabled. [2049623]