NVIDIA updates Titan Xp's driver to improve performance and withstand RX Vega's pressure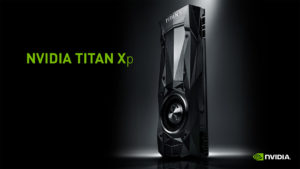 You have probably heard of the Titan Xp. It's a high-end graphics cards by NVIDIA that stands somewhere between the GeForce lineup and the professional Quadro series. It exceeds the GTX 1080 and 1080 Ti in performance but it lacks the necessary drivers to unlock the potential that the Quadro GPUs possess.
Now NVIDIA is releasing a driver specifically for the Titan Xp that is said to deliver up to "3x more performance in applications like Maya". The Geforce 385.12 Beta is available for all GeForce cards but it targets performance improvement in professional software specifically for the Titan Xp so other users will probably get nothing. Information about the new driver is very scarce – "Provides multiple Titan Xp performance optimizations on a variety of applications for prosumers and creatives" is all that NVIDIA says about it on the release highlights.
As AMD officially releases their RX Vega lineup of high-end and professional graphics cards NVIDIA is facing some fierce competition. Maybe enabling some Quadro features on the Titan Xp is the company's way of trying to compete with the performance of the new RX Vegas.
You can download the Geforce 385.12 Beta driver from here: https://www.geforce.com/drivers/results/121776
Meanwhile, you can check out all currently available NVIDIA products over here: http://amzn.to/2inSKeA