Our new YouTube channel with thousands of gaming tests – LaptopMedia Benchmarks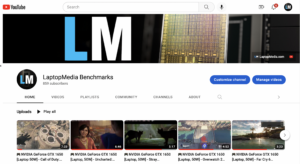 If you still don't know, we got a new YouTube channel called "LaptopMedia Benchmarks". This is our own workshop for benchmark videos so you can clearly see the exact performance of any GPU. Now you can find 40+ different playlists for mobile video cards including some of the hottest offerings from NVIDIA and AMD like the GeForce RTX 3080 [150W] or the AMD Radeon RX 6850M XT. In short, our second channel has thousands of gameplay videos with different GPUs – from integrated solutions to high-end discrete beasts for gaming.
As you guess, this requires a lot of work, dedication, and time. If you want to motivate us to keep working on it, please subscribe, hit the notification bell, or leave a comment. We need your help to reach 1000 subscribers – our first big goal!
More great videos are about to come so stay tuned and have fun:
LAPTOPMEDIA BENCHMARKS YOUTUBE CHANNEL