Razer announces Yellow linear mechanical keyboard switch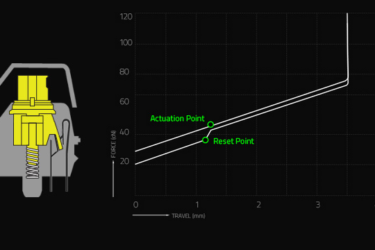 Razer is one of the most notable manufacturers of gaming accessories such as keyboards and mice. Their mostly green design seems to be appealing to a lot of users. In this article, we will focus on the keyboards and more specifically on their mechanical switches.
Razer has partnered with Cherry and use their MX line on switches but that time is over and now the company is using its own mechanical switches. For now, we have the Razer Green and Razer Orange switches. Green switches are designed to be similar to the Cherry MX Blue with a 50cN (a quick flashback to Physics class – one cN weighs about as much as a gram on the surface of the Earth.) activation force and a clicky response, while Orange are more like the Cherry MX Brown with a 45cN activation force and no clicky response.
The purpose of this article it to let you know that from now on there will be another Razer-branded mechanical switch to choose – the Razer Yellow. The new switches have an activation force of 45cN and the company claims they are linear and silent. It seems that the new switch resembles the Cherry MX Red. At the moment Razer Yellow switches are only available inside the Razer Blackwidow Chroma V2.
You can check all available Razer products here: http://amzn.to/2jGKYNs