Razer updates its ultimate gaming notebook – the Blade Pro now with even better hardware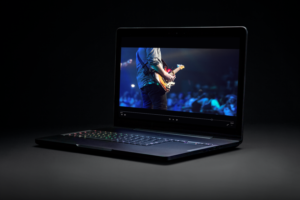 Currently, there is a version of the Blade Pro available. It features a NVIDIA GeForce GTX 1080 graphics card and a Intel processor from the Skylake family. The new version keeps the GTX 1080 inside but opts for a newer Kaby Lake CPU and faster RAM.
The 17.3-inch gaming beast Blade Pro will now be available with a processor from the latest seventh generation of Intel CPUs. This time the notebook comes with the Intel Core i7-7820HK which is a quad-core CPU with a base clock of 2.90 GHz and a boost frequency of up to 3.90 GHz. What's special about it is the nomenclature – the letter "K" in the name means that the processor is unlocked for overclocking. In other words, you will be able to tinker with it a bit.  According to Intel, you can boost the frequency up to 4.30 GHz.
The other upgrade is faster RAM. You can get yours with 32 GB of DDR4 RAM that runs at 2667 MHz. Storage capacity is anywhere from 512 GB to 2 TB of PCIe-based SSD depending on your preferences.
As of the other components, everything remains the same. You get the same 17.3-inch 4K UHD G-Sync enabled touch-sensitive display and the same graphics card – the GTX 1080. NVIDIA hasn't announced the notebook version of the 1080 Ti yes so Razer is stuck with the 1080 for now.
The updated version of the Razer Blade Pro will be available in April and pricing starts as high as the performance – from $3999.
Meanwhile, you can check all available Razer product over here: http://amzn.to/2jGKYNs