Save more than $150 on the Alienware 15 R3 (GTX 1060/1070) on Amazon
If you happen to be looking for a new gaming notebook then you might want to check out what Alienware has to offer. You can get the Alienware 15 R3 model with more than $150 off on Amazon right now.
The discounted configurations of the Alienware 15 R3 feature a seventh generation Intel Core i7-7700HQ with four cores and eight threads clocked a 2.8 GHz up to 3.8 GHz. The CPU is backed by 16 GB (2×8 GB) of high-speed 2400 MHz DDR4 RAM which is expandable up to 32 GB. There are two options for the graphics accelerator – NVIDIA GeForce GTX 1060 6GB or GTX 1070 8GB. Storage options include a 256 GB SSD for storing the operating system and valuable data and a 1 TB spinning hard drive for mass storage which can be replaced. The Alienware 15 R3 feature a 15.6-inch IPS display with Full HD (1920 x 1080p) resolution and NVIDIA G-Sync technology supported to provide buttery-smooth visuals.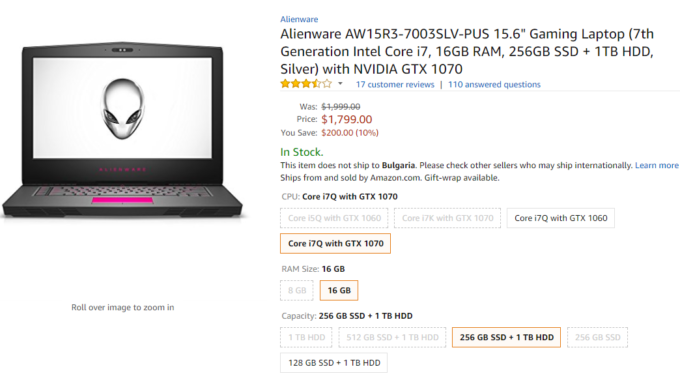 The discount on the GTX 1070 version is higher – 10% which will save you exactly $200. You can now purchase the Alienware 15 R3 with GTX 1070 for $1799.00 while the discount on the GTX 1060 model is 8% or $150.99 which means that the notebook is yours for $1649.00 – quite a bargain.
You can check the GTX 1070 version here: http://amzn.to/2sB9Kb8
while the GTX 1060 model over here: http://amzn.to/2uFGix4
Meanwhile, you can check out all Alienware products over here: http://amzn.to/2ukA06X