Say hello to ASUS Project Precog – the laptop of the future!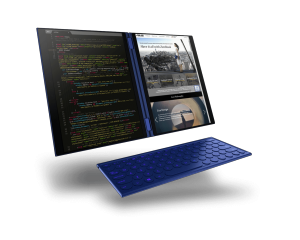 ASUS always keeps some aces up its sleeve for Computex, and this year is no exception. After introducing its ZenBook Pro 15 UX580 with a second FHD IPS display in the place of the touchpad, the Taiwanese company further astounded us with its vision of future notebooks. And this vision goes under the name Project Precog – a laptop prototype with two screens. The final version of the notebook is expected to be presented next year.
ASUS Project Precog can be used in four main modes, three of which are characteristic of all other convertibles. The most interesting one is the fourth one called "Book Mode". It allows you to use your device in a horizontal position with both screens being active. You shouldn't worry about a lack of space for the keyboard as it's connected as a separate device.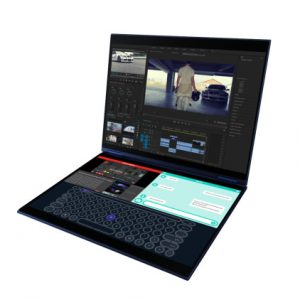 The notebook may become a very intriguing device for graphic designers due to the various possibilities it offers. For example, they can work on a graphic file on the first screen and use the dedicated stylus to express their creativity, and perform another activity on the other screen. In addition, ASUS Project Precog will offer support for two voice assistants: Cortana and Amazon Alexa.
As we have already mentioned, ASUS Project Precog is an early concept of a futuristic laptop and we have to wait until next year to at least see the outcome of the company's engineers' work.
Until then, you could check all available ASUS products here: Buy from Amazon.com (#CommissionsEarned)