Seagate teases 64TB NVMe SSDs with stunning 13GB/sec read speeds, announces new Nitro SSD models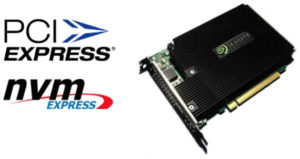 It was today at the 2017 Flash Memory Summit (FMS) that the renowned manufacturer of storage devices Seagate came up with some delightful news for all of us. There are two new products in the company's Nytro SSD series. We are talking about Nytro 5000 M.2 NVMe SSD and Nytro 3000 SAS SSD. In addition, Seagate will be showcasing a 64TB NVMe AIC drive that can reach read speeds of up to 13GB/s. A truly remarkable performer, indeed.
If you happen to show interest, you could check all currently available Seagate products here: http://amzn.to/2fpHv9N
The Nytro 5000 M.2 NVMe SSD will come in capacities up to 2TB housed in a small form factor. Additionally, it's rated at 67K random write IOPS and boasts low power consumption.
As for the second model – Nytro 3000 SAS SSD, we can mention that its capacities will be much larger – up to 15TB, to be precise. Performance-wise, this bad boy will offer up to 2,200 MB/s of sequential read speed. We must also note that this product makes use of a dual-port SAS interface which is good for extra peace of mind in case there is some problem with the communication channel. The two devices are expected to be available later this year. As far as the promising 64TB NVMe AIC drive is concerned, the information is scarce but we may expect it to hit the market next year.