Send your kids back-to-school with two Fire 7 Kids Edition tablets for just $149.98 (limited time offer)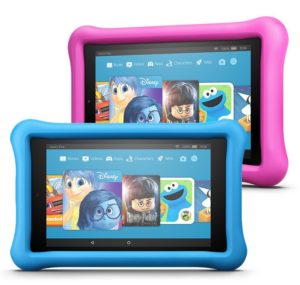 For some school already started and others are enjoying the last days of summer break but eventually, everybody has to go to school. Amazon has a limited time offer that will make either your time spent at school more fun or help with your education.
The offer is targeted at the kids, we doubt that high-school students will be interested in it. For a limited time, you can buy not one but two Amazon Fire 7 Kids Edition tablets thus saving $50. Although they look like toys they are most certainly not – they are full-featured Android tablets.
The bundle contains one tablet in blue color and one in pink. Otherwise, they are the same in terms of specs. You get a 7-inch IPS display with 1024 x 600 resolution. Internal storage is 16 GB but you can expand it with up to 256 GB via a micro SD card. Amazon promises up to 8 hours of battery life.
The Fire 7 Kids Edition won't blow you with specs but it is not designed to do so. It is designed to bring a safe and reliable smart device to the children. For instance, with its purchase, you get a 1-year free access to FreeTime Unlimited which allows you to choose from more than 15 000 free apps, games, videos, and books with both entertainment and educational purposes.

The built-in browser is "kid safe" as it filters inappropriate content from more than 56 000 web pages including YouTube. Parents also have a lot of control over the experience. You can set clock, timers and exclude access to different applications for a period of time. The Fire 7 Kids Edition tablet is also protected by a "Kid-proof" case that will last any drop or bump or spill that a kid could come across.
Bring joy to learning with a Fire 7 Kids Edition bundle for only $149.98. You can visit the offer over here: http://amzn.to/2vHcPIg