Several new notebooks are added to our NGFF (M.2 SSD) compatibility list including the Lenovo Yoga 900S and Lenovo Yoga 710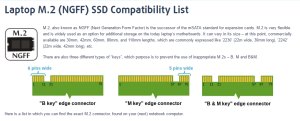 Our NGFF compatibility list continues to grow as we write reviews and inside articles of the latest laptops and we just added several new machines that you might be interested of.
Let's start with the more boring ones – Dell Inspiron 5555 and Dell Inspiron 3552. Both notebooks are entry-level devices so having an M.2 SSD slot would be greatly unexpected and this is just the case. They don't offer anything other than 2.5-inch HDD slot, which is taken, of course, leaving you with the option of swapping the optical drive for another 2.5-inch HDD. However, the Lenovo Yoga 900S surprised us pleasantly when we opened up the skinny ultrabook. It offers blazingly fast M.2 PCIe NVMe SSD storage with M-edge key connector using the 2280 standard. Anyway, the Yoga 710 also offers an M.2 SSD slot, but uses the old SATA standard but it's kind of understandable given the fact that it's a more affordable alternative to the Yoga 900S.
Stay tuned for the full reviews of these devices.