Steam Hardware Survey June 2017 – GeForce GTX 1060 and quad-core CPUs are most popular
Steam is currently the largest platform for PC gamers with over 125 million active users. Steam has published its latest report from June 2017 from its Hardware and Software Survey. It reveals is valuable and interesting information about what systems do most PC gamers use.
Meanwhile, you can check all gaming devices over here: http://amzn.to/2uBZUmV

Graphics cards
Of course, NVIDIA's GPUs are most widely spread with 63.31% of all users while ATI is preferred by three times fewer users – 20.5%. Intel's integrated GPUs are used by 15.54% of Steam users which is notable and 0.35% are using old cards manufactured by VIA. Apparently, the GeForce GTX 1060 graphics card is a tempting option offering good performance at a reasonable price. There would be no other reason for it to be the most used GPU at the moment. The percentage of gamers using the GTX 1060 has risen and is now measuring 6.29%. It is followed by the GTX 750 Ti which appears to still be a favorite among those who haven't upgraded to a newer generation yet. And third place is taken by the GTX 960 which usage has increased a bit since May probably due to recent price drops.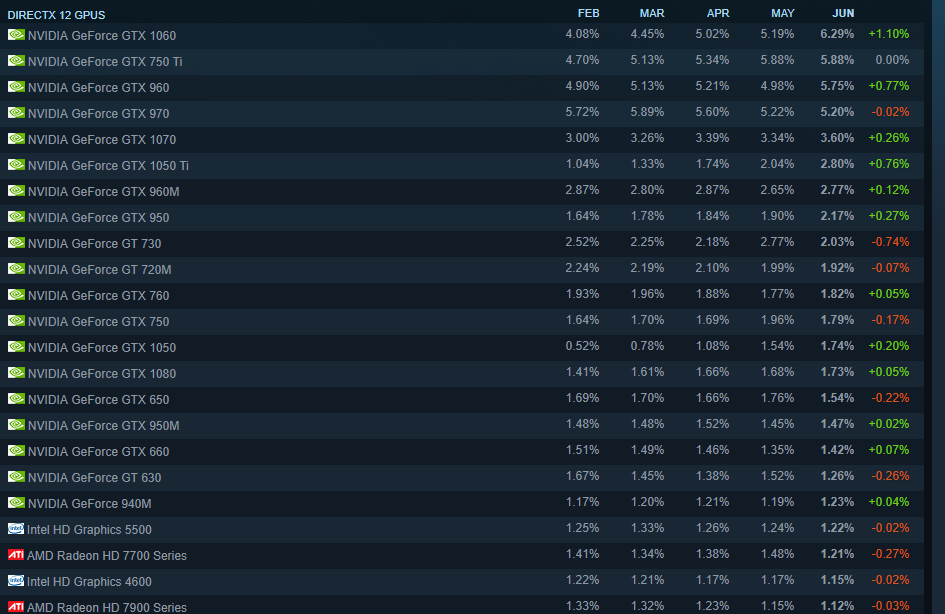 Flagship GPUs like the GTX 1080 are preferred by just 1.73% of all users and cards like the GTX 1080 Ti fall into the "Other" category which means less than 0.3% adoption. Another statistic that shows us that most users use low to mid-range GPUs is the amount of VRAM. Most modern graphics cards are equipped with 4 GB or more and while the percentage of 4 GB GPUs is rising the most it is still just 10.95%. Most used are the graphics cards with just 1 GB of VRAM – 31.13% – probably light users playing mainly eSports and/or 2D games and old titles.

Processors
No surprise here, Intel processors are used by just over 80% (80.99%) of all users while AMD is at 19.01% (information is for Windows systems). It is a bit alarming for AMD is that we see a small share decrease in the past months even though the release of Ryzen 5 series. However, according to PassMark data, AMD's share is growing rampantly so maybe the Ryzen processors are not as popular with gamers as with other users. The market share decrease of AMD Steam users may also be a result of people that were using the old APUs have shifted to Intel. Nevertheless, with ThreadRipper coming soon and Coffee Lake set for the end of the year, we don't know what to expect.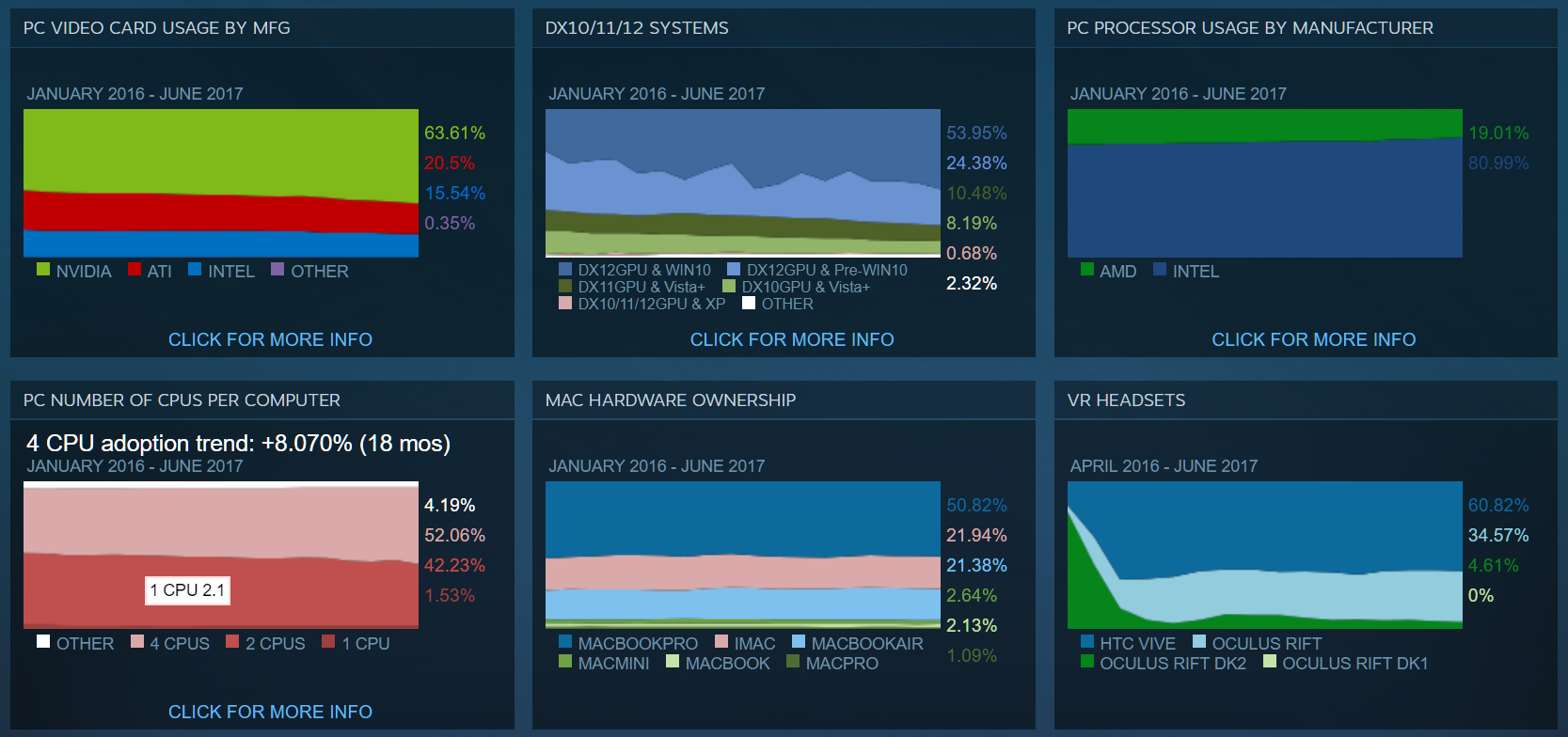 Processors with four physical cores have confirmed their dominance over the market – 52.06% with 3.27% increase. This means that most users are opting for Core i5 and i7 CPUs. However, we see a slight increase in eight core CPUs – 0.49% which is increased by 0.05%. We are pretty sure that this is thanks to the Ryzen 7 models. On the other hand, low-end CPUs with just two physical cores like all Core i3s, Pentiums and Celerons are still widely spread with a share of 42.23% but they are not as trending as before – a 3.12% decrease is recorded.
CPU cores / Amount of VRAM
Other components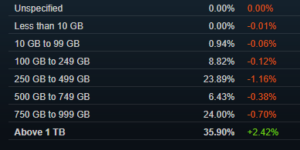 35.9% of users have more than 1 TB of storage space which can only mean that the majority of gamers use hard drives as their mass storage and SSDs are added just for the operating system and some applications. However, 23.89% only have from 250 to 499 GB of storage and since 1 TB capacity is a standard for HDDs for the past few years we can safely say that almost a quarter of the users are relying solely on different forms of flash drives.
Maybe it will be interesting to know that the most frequently used resolution is Full HD (1920 x 1080p) with a share fo 48.77%. It is followed by WXGA (1366 x 768p) with 21.69% – most probably notebook users.

Operating systems and Apple devices
Windows is the most preferred operating system with a share of 96.24%. Windows 10 is adopted by 50.33% of users and it is increasing while Windows 7 is decreasing now at 32.05% (64-bit versions). Apple users are just 2.95% but note that these are only Steam users. The latest MacOS 10.12.5 64 bit is most widely spread. And Linux has the lowest share of just 0.72%. The most used distribution appears to be Ubuntu 16.04.2 LTS 64 bit with 0.21% of all users.
And this is how Apple device usage is distributed: just above half (50.82%) of all users are using a MacBook Pro, followed immediately by iMac and MacBook Air 21.94% and 21.38% respectively.
Overall, we could say that quad-cores are the norm but a lot of users are still using older graphics cards, despite the fact that GTX 1060 is the most popular at the moment. We also see that more and more users are opting for SSDs which isn't a surprise as prices drop while capacities grow.
Meanwhile, you can check all gaming devices over here: http://amzn.to/2uBZUmV