Take a look at Toshiba's updated No Matter What Guarantee – Toshiba got you covered in any situation
For some time now all of Toshiba's laptops are under the so-called No Matter What Guarantee that provides protection, both in cases of manufacturing defects and unexpected events.
Toshiba now offers even better, extended conditions of the warranty. Rest assured knowing that your Toshiba laptop is covered by three years warranty. Within this period, the manufacturer will take care of all the replacement and repairment expenses of the device. Not only that but No Matter What Guarantee is now an international warranty. You can take a closer look at the conditions, under which Toshiba will assist you.
Eligible countries: Austria, Belgium, Bosnia and Herzegovina, Bulgaria, Croatia, Cyprus, Germany, Greece, Hungary, Israel, Italy, Macedonia, Montenegro, Netherlands, Luxembourg, Portugal, Romania, Serbia, Slovenia and Spain.
No Matter What Guarantee covers the entire Satellite, Qosmio, Chromebook and KIRA series:
Accidental damage
Perhaps this is the most reassuring aspect of the guarantee. In this section are listen things such as drops, spills, etc. In other words, if you have dropped your laptop or spilled coffee over it, the No Matter What Guarantee will offer repairing or replacing your device.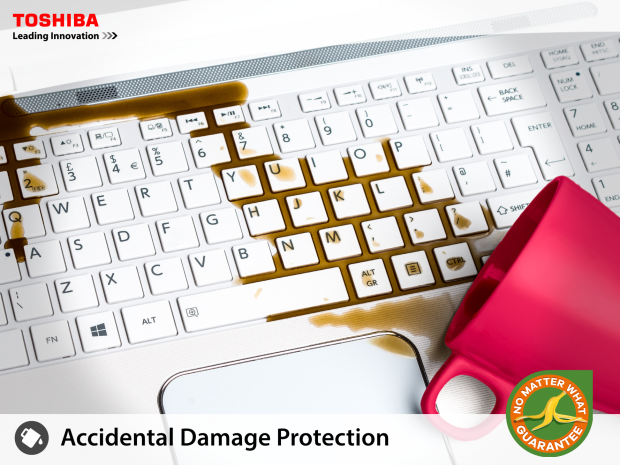 Theft
If you are the type of person who travels a lot with his laptop, there's always the risk of someone stealing it. If you have registered your Toshiba product, you are eligible for a free replacement and the model, which you will receive, is either the same as your old one or an equivalent.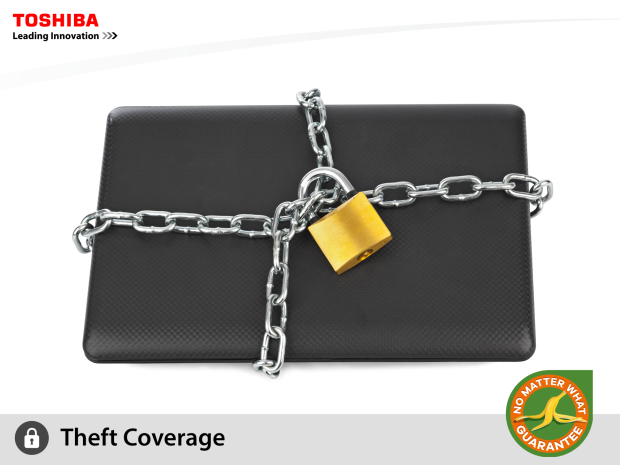 Data recovery
Often we store our photos and videos of precious moments and memories of our lives as well as other important information on our laptop. A case, where your hard disc malfunctions or crashes, could have a disastrous outcome as it isn't always repairable. However, if this happens, No Matter What has got your back again. Your failed drive will be replaced with a new one and at Toshiba will try their best at recovering the information.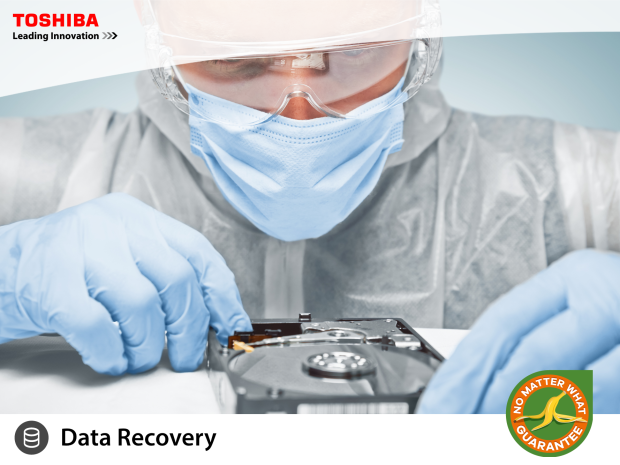 McAfee LiveSafe
The main purpose of the No Matter What guarantee is to repair any damage done to your device, but the damage isn't always physical. Users who have signed up for the warranty are offered a one-year McAfee LiveSafe license. The software protects both – your data and your device from any malware, spyware, unwanted programs, etc. It also has an anti-spam and parental control features.
You can find more information about the terms and conditions of the guarantee in Toshiba's official Website: http://www.toshiba.eu/innovation/generic/nomatterwhatguarantee/
No Matter What Guarantee covers the entire Satellite, Qosmio, Chromebook and KIRA series: