The Acer Predator 17 (G9-793) is just another GTX 1070-powered beast showing up for pre-order in Bulgarian online retailer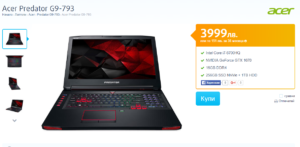 We all remember the hype around NVIDIA's Pascal mobility lineup and how excited we are were when saw the ASUS ROG G752VS up for pre-order in Laptop.bg – a Bulgarian online retailer. Well, today you are in for another surprise because another GTX 1070-powered notebook showed up in the same store – the Acer Predator 17 (G9-793).
It's priced at around €2 000, which is exactly the price of the ASUS ROG G752VS as well. Specs are also identical – Intel Core i7-6700HQ, NVIDIA GeForce GTX 1070 (8GB GDDR5), 16GB of DDR4-2133 RAM, 1TB of HDD storage accompanied by an M.2 PCIe NVMe 256GB SSD. The screen is 17.3-inch Full HD (1920×1080) IPS with matte finish and native G-Sync support. We are eager to see whether the notebook has 75Hz refresh rate, like the ASUS' ROG G752 or it will stick to the usual 60Hz.
We have a strong reason to believe that the notebook will start shipping in the next week or two but no confirmation on other parts of the world. Judging by the usual schedule of shipments, the new Predator 17 will be officially announced and put in stores earlier than in Eastern Europe.
Stay tuned for the full review and the following stream of articles regarding the new Predator 17.
Source: Laptop.bg