The AMD Radeon RX 5600M is already benchmarked – close to RTX 2060 (Laptop) results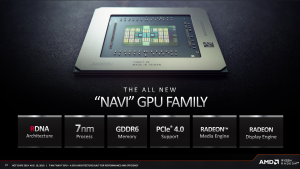 The AMD Radeon RX 5600M 3DMark Firestrike score has been leaked thanks to the Reddit user "_Rogame". This is the same user that gave info about the Renoir APUs two weeks ago. The result is almost neck and neck with the mobile version of RTX 2060. The RX 5600M will be a fresh mobile replenishment that is based on the AMD Navi architecture. The new RX Navi GPUs will be unveiled at AMD's CES 2020 keynote next week.
The particular leaked score shows a promising performance – 14609 points in 3DMark Firestrike (graphics score). That is just 1-3% behind the mobile version of the RTX 2060 which is a Turing based GPU. One other interesting thing is that the Radeon RX 5600M is paired with an AMD AMD Ryzen 7 4800H mobile CPU which is an unreleased 8-core 16-thread processor with 2.90GHz / 4.30GHz base and boost clocks.
This combo (Ryzen 7 4800H + RX 5600M) is compared to a notebook configured with Core i9-9980H and GeForce RTX 2060 (laptop) GPU. The Turing GPU has a score of 14812 points. That's why the CPU score (in this situation – the Combined test and Combined Score) of the i9 CPU is higher – it has much higher clocks than its yet unreleased rival, the 4800H.
Results are from the 3DMark: Fire Strike (Graphics) benchmark (higher the score, the better)
You'll find more info about RX 5600M, when it's released, here:
https://laptopmedia.com/video-card/amd-radeon-rx-5600m/