The Lenovo Yoga 910 shatters all battery endurance records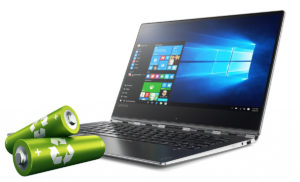 If the Lenovo Yoga 910 was a marathon runner, he would finish the race twice for the time his rivals cross the line at the end. With the ASUS ZenBook UX303UB as close second. Anyway, the new Yoga 910 seems to have improved in more than a few aspects and battery life is the most noticeable one.
You can find some of the available Yoga 910 configurations here: http://amzn.to/2dO6y4t
We ran our usual tests for web browsing and video playback and the results are amazing even comparable to some smartphones on the market. The laptop endured the whopping 807 minutes (13 hours and 27 minutes) while surfing the Internet and 638 minutes (10 hours and 38 minutes) of video playback. This is by far the best battery life we've seen on any Windows notebook including 12-inch, 13-inch and huge 17-inch workstations with monstrous batteries.
The reason for this excellent battery performance is the new and improved Kaby Lake Core i5-7200U energy-efficient CPU and the big 78Wh unit. We are really puzzled by how Lenovo was able to cram up such a big battery inside this thin and light chassis. The density of the battery must be absurd. In any case, the Yoga 910 is the best premium solution for long battery life, at least for now. We do have to note, though, that we've tested the Full HD model so configurations with 4K UHD screens will run considerably less time away from the charger.