The new budget ASUS ROG GL552JX with GeForce GTX 950M has the same IPS panel as the G501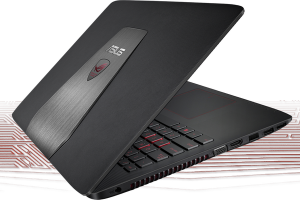 Republic of Gamers is a renowned lineup from ASUS that delivers quality gaming notebooks with the latests hardware and cool design that appeals to most gamers out there. However, the ROG lineup has not only high-end machines, but also offers some budget gaming laptops for those of you who aren't willing to empty your wallet. The latest notebook part of the ROG lineup is the GL552JX with GTX 950M (2GB GDDR5) GPU and a full review is coming too, but for now we can provide part of the display tests we've conducted.
An Interesting thing popped up before we even began testing the unit. We are talking about the model of the panel which is 156HL01-102 manufactured by Samsung and if that seems familiar, it's because the very same display has been used in the ultra-thin gaming G501 we've reviewed a few weeks back. Just like its more powerful brother, the GL552's screen has 93% of the sRGB color gamut and a maximum brightness of 281 cd/m2 which would be enough for gaming or working in a very bright room. The contrast ratio is around average – 840:1, but the most notable thing that the GL552 inherits from the G501 is the PWM or simply – screen flickering. This is harmful to your eyes and can result in eye strain or headaches. The PWM we've recorded is absent only at 100% brightness leaving you in a tight situation when you don't need the extra brightness. The results can be seen below.