The new Dell Vostro 7570 is a business-class notebook with GeForce GTX 1060 GPU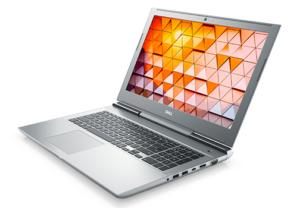 Dell's Vostro series is their upper class of products that usually have the business user in mind. The Vostro notebooks tend to deliver excellent input devices, superior battery life, many security and transfer options. The Vostro 7570 is all that but more.
Vostro 7570 does pack all the business-level features we mentioned above. It features a full-size backlit keyboard with a dedicated num pad just like if you are on a desktop PC. The big precision touchpad supports all kinds of gestures on Windows. You are provided with a fingerprint sensor for better security and a Noble lock for locking your device. The data itself is protected with an optional hardware TPM 2.0. You can read more about the specs and features of the Vostro 7570 in our dedicated article.
What we want to emphasize on is the fact that the Vostro 7570 is not strictly a business notebook. In fact, it is more of a solid all-rounder that an office machine. While you get the nice big keyboard with a num pad and all the security measurements, performance is not left behind. You can choose either the Core i5-7300HQ or the Core i7-7700HQ to power up your notebook and you can pair them with up to a GeForce GTX 1060 graphics card.
The casual office user does not necessarily need the horsepower of the HQ CPU and GTX 1060 but there are still present to make the Vostro 7570 a truly versatile notebook. By adding the GTX 1050, 1050 Ti or 1060 to your configuration, you are creating a device ranging from an entry-level gaming notebook to a serious gaming rig.

The Vostro 7570 is a solid all-rounder. It can be used as a gaming notebook because of the powerful hardware. It can be used as a business assistant thanks to the great IO options and security features. It can be used as a daily driver due to the combination of the aforementioned features. The Vostro 7570 has something for everyone. It gives you the freedom of choosing a single device that can be used for mostly everything.
You can check out the available configurations of the Vostro 7570 and their specifications in our Laptops Specs system below: