The top model of the new flagship ASUS ROG G752 just popped out in Europe for the whooping price of 3500 EUR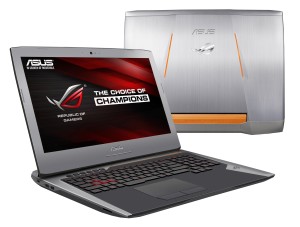 It seems not long after the launch of the ASUS ROG G752, the beastly offering pops out in Europe with top specs, but hold your hats, because the price is corresponding to the powerful hardware and sleek design. The asking price is €3 500 surpassing most of the Alienware offerings.
Obviously ASUS has upped their game with the new G752 in terms of pricing, but in features as well. It will be really cool to see how the ASUS G752's NVMe PCIe x4 SSD on board performs. The keyboard is a little updated too with customizable LED backlight depending on the genre of game you are playing and the G-Sync chip is inside for smoother gameplay. And while all this seems great, the battery capacity has been reduced from 88Wh on the last generation to 67Wh on the G752. We were somewhat impressed with the battery performance of the G751 (for a gaming notebook of course), but we don't know what to expect from this one. Strangely, though, while the ASUS website claims 67Wh battery, the store has listed the notebook with 88Wh.
If were to G752 have smaller battery, it will be quite disappointing because the new model weighs more (4.3 kg vs 4.05 kg) and its dimensions are just about the same (43 mm thickness vs 53 mm). It's a big sacrifice – about 21Wh less battery capacity for only 1 cm reduced thickness. Anyway, the rest of the specs are as we already mentioned – Core i7-6700HQ CPU, NVIDIA GeForce GTX 980M GPU, 32GB DDR4 RAM, it's definitely worth considering this delicious offer if you are aiming for a more premium offering.
Source: Browswave