The new HP Pavilion 17 uses a user-friendly monitor without PWM from 25% to 100% brightness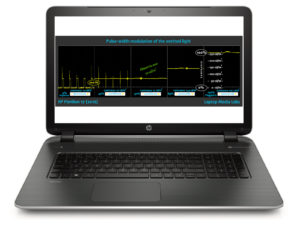 Another great news for the new beefed-up HP Pavilion 17. Not only does the notebook offer more than decent image quality but the last readings from our lab show that the panel is also pretty safe for extended use as it won't give you any unpleasant headaches. Or in other words, it doesn't use PWM.
You can browse here for more info regarding price and configurations: http://amzn.to/293PqWP
You can see on the chart below that the readings are mostly similar to the ones we got on the ASUS ZenBook Flip UX360 – some pulsations were detected but only at extremely low brightness levels. The PWM shows at 25% and below, which means around 70 cd/m2. To put things into perspective, you could use the notebook at this brightness only in pitch black or really dark environments. Otherwise, you will be using it way above 25%. In fact, we suggest that you keep the slider above 25% at all times because the frequency of the emitted light flickers at 200 Hz, which is known to be extremely aggressive for your eyes.


Stay tuned for the full review and in the meantime, we suggest you take a look at our PWM ranking table that shows the safest screens on notebooks.