The new Lenovo ThinkPad X1 Tablet is for those who seek something different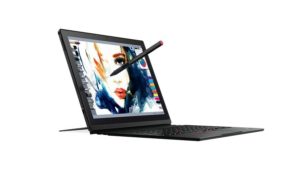 The beginning of CES 2017 seems to be all about Lenovo. When we say that we mean it in a good way. This is the second Lenovo tablet we are discussing today but isn't the time of tablets done? Didn't phablets make tablets somewhat obsolete? Perhaps, to a certain degree, yes. However there are some tablets which are not just a smartphone on steroids but provide more.
If you want to check other Lenovo tablets, you could use this link: http://amzn.to/2j0jGSj
According to the manufacturer, this 12-inch mobile device is a business tablet that has passed a number of military-grade checks which means that if you are constantly on the go, you won't have to worry about hitting it here or there. You may also wish to know that this jewel ships with a QHD IPS screen (which is awesome, considering the 12-inch size). Additionally, you will be presented with a 1 TB PCIe-NVMe M.2 component, up to a 7th gen Intel Core i7 processor plus up to 16GB of RAM. A tablet with these specs will certainly be fun to test!
This machine will also ship with a fingerprint scanner and optional keyboard and a module which serves as a small projector. Software-wise, you can choose between Windows 10 Home and Windows 10 Pro. Unfortunately, there is still no information as regards prices and when it will be available.