The new Lenovo ThinkPad Yoga 11e (5th Gen) convertible series for students – specs, features and configurations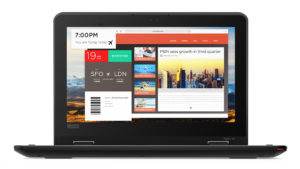 We are taking a look at yet another convertible series by Lenovo – the new 5th generation of ThinkPad Yoga 11e. Unlike the ThinkPad L380 Yoga and ThinkPad X380 Yoga that are high-end business laptops, the Yoga 11e targets a different set of users – students. The ThinkPad Yoga 11e will be available with either Windows or Chrome OS.
You can check its in-depth specs and more information here: http://laptopmedia.com/series/lenovo-thinkpad-yoga-11e-5th-gen/
The ThinkPad Yoga 11e is an ultra-portable and durable 2-in-1 convertible notebook aimed at building the classroom of the future. Of course, the compact companion can be just what you need on the go. It is not going to surprise anyone with its specifications but this could mean an affordable price too.
The ThinkPad Yoga 11e offers an 11.6-inch IPS screen with a rather low resolution of 1366 x 768 pixels which would still provide enough sharpness due to the small screen size. The display supports the ThinkPad Pen Pro which makes it easy to write, draw or sketch.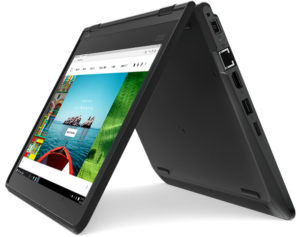 The ThinkPad Yoga 11e is not designed to be powerful. It is rather set on delivering the best features. You can get up to a 7th gen Intel Core i5-7Y54 backed by up to 8GB of RAM which is enough for office work and browsing. The low-powered chip and the 42Wh battery are set to deliver up to 12 hours of battery life according to the manufacturer. The notebook even supports fast PCIe NVMe storage.
Durability and security are two major aspects of every Thinkpad and the Yoga 11e is no exception. The notebook has MIL-STD-810G military certification which means that it is tested and protected against a variety hazard including water, dust, and others. The screen is also protected via Corning Gorilla Glass and rubber bumpers protect the corners so dropping the notebook should not be an issue. As for security, you get a Kensington lock and a discrete Trusted Platform Module which is used for encryption and storing authentication artifacts.
The ThinkPad Yoga 11e might be small but it does not lack any connectivity options. It even features a USB Type-C port, a full-sized HDMI, and a gigabit Ethernet port. Dual-band Wi-Fi ac, as well as Bluetooth 5.0, is also supported for high-speed wireless connections.