The new Toshiba Satellite P50-C comes with new processor but keeps the same shiny IPS panel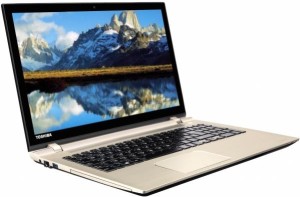 Remember how the Toshiba Satellite P50-C had an awesome IPS panel but had a CPU that's no match for the GPU causing a the so-called bottleneck issue. Well, things have changed now, yet the new variant keeps what's good from the previous version. The IPS panel is the same while the processor is the significantly more powerful Core i7-6700HQ.
You can look up the model with Core i7-6700HQ at Amazon.com.
The model number of the panel is LP156WF6-SPA1 manufactured by LG. It has a glossy finish with 1080p resolution. It offers fairly high maximum brightness – 319 cd/m2, good sRGB coverage – 91% and approximately 1000:1 contrast ratio. It's a rather good display with rarely seen good properties at this price range. The only two drawbacks are the slight light bleed at the upper-left corner, which is only visible on black screen, and the PWM across all brightness levels, except for 100%, of course. The emitted light, however, pulsates at high frequency, which will cause eye fatigue only to users with sensitive eyes.