The pixel-packed display of the Sony Xperia Z4 Tablet is not the only one draining the battery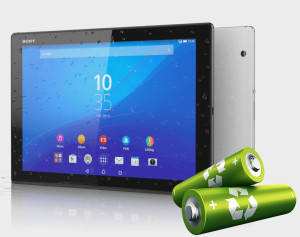 Last year Xperia Z2 Tablet scored good times in our battery test, but while the Xperia Z4 Tablet comes in a thinner body and several upgrades inside, the battery capacity remains the same. In our case, this is not promising at all, because the Xperia Z2 Tablet featured FHD (1920×1200) display and the Xperia Z4 Tablet comes with QHD (2560×1600) resolution. This will surely decrease the battery life and our tests are here to prove it.
We ran the usual Wi-Fi browsing test along with video playback and 3D gaming. All tests share the same conditions – Wi-Fi turned on, GPS off, 3G off and screen brightness set to 120 cd/m2. The Xperia Z4 Tablet managed to get through 563 minutes of Wi-Fi web browsing and 506 minutes of video playback. It's a relatively good result, yet a big setback compared to last year's model. For instance, the Xperia Z2 Tablet got 625 minutes of web browsing and 674 minutes of video playback, meaning we are presented with 17-18% an average decrease of battery life year-over-year. Moreover, gaming test shows nearly 100 minutes decrease, again – 290 minutes for Xperia Z4 and 377 minutes for the Z2. The difference is quite noticeable and we think that the extra pixels of the QHD screen aren't the only ones responsible. The same pattern applies for other Snapdragon 810 devices (or Snapdragon in general) so Qualcomm might be the ones to blame the most. However, those are just assumptions but our further testing will most likely confirm our theory.
Stay tuned for our full review.