The semi-professional ProArt PA329Q 4K monitor covers 100% of the Adobe RGB color gamut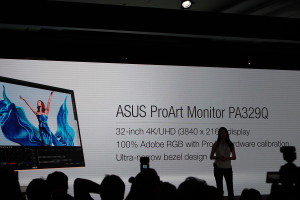 Following the ProArt PA328Q monitor from last year's Computex, ASUS unveils its direct successor – ProArt PA329Q. This one offers several significant upgrades over its predecessor with the most notable one of 100% of Adobe RGB color gamut coverage.
However, most of the specs sheet is identical to the previous model – 32-inch diagonal, 4K (3840×2140) resolution, 16-bit internal lookup table, although last year's model has just 12-bit. Some of you may also benefit from the BT2020 / DCI-P3 color space support. In terms of connectivity, the monitor is equipped with 1x HDMI 2.0, 2x HDMI 1.4, 1x DisplayPort 1.2, 1x Mini DisplayPort 1.2 and 4x USB 3.0. ProArt PA329Q additionally comes with pre-calibrated profile for high consistency, but you can also calibrate it by yourself with almost every hardware calibrator.