This is how the new Dell XPS 13 2-in-1 looks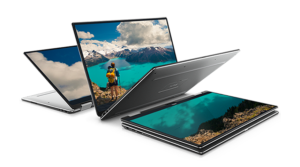 Dell leaked an official image of its new XPS 13 2-in-1 and it looks like the company isn't in a hurry to remove it. Most probably, the notebook will be shown at the Consumer Electronics Show in a couple of days and chances are that it will sport the same Core i5-7200U / Core i7-7500U Kaby Lake processors we found in 13 9360.
We have pretty good impressions of the last two generations XPS 13 – 9360 (in-depth review) and 9350 (in-depth review) and we hope that this new little machine won't disappoint us. What we can see from the picture is that the new XPS 13 has the same aluminum body and ultra-thin bezels so judging by its design and construction, we can expect another great hit.
In addition to the XPS 13 2-in-1, Dell will show the new XPS 15 9560 with i3-7100HQ, i5-7300HQ or i7-7700HQ CPU and GeForce GTX 1050 GPU.
You can check the specs and prices of all the available Dell XPS notebooks on the market here: http://amzn.to/2iW5Hgf