Toshiba's latest research comes out with interesting findings of cloud-based solutions among companies


With the help of 400 senior IT decision makers and the research firm ICM Unlimited, Toshiba came out with a number of interesting findings of the global cloud-based solutions. It turns out that data security (50%) and cloud services (56%) are the two main investment areas for IT departments in the UK this year.
This doesn't come as a surprise because of the rising popularity of Internet of Things and the research spans across not only the UK but in Germany and France as well. The cloud-based services provide seamless connectivity across all employees giving access to all needed files, documents etc. for work. Mobile devices like smartphones (42%) and tablets (31%) being connected to the company's data, businesses are getting concerned about their safety.
However, only 69% of UK, 62% of France and 63% of German companies admit reviewing their security policies and installments once a year. This poses a serious threat to sensitive data across companies and one in five senior IT decision makers from the UK and Germany think that cyber-attacks are the main threat to their security, whereas 22% of France's ITs are mostly afraid of viruses.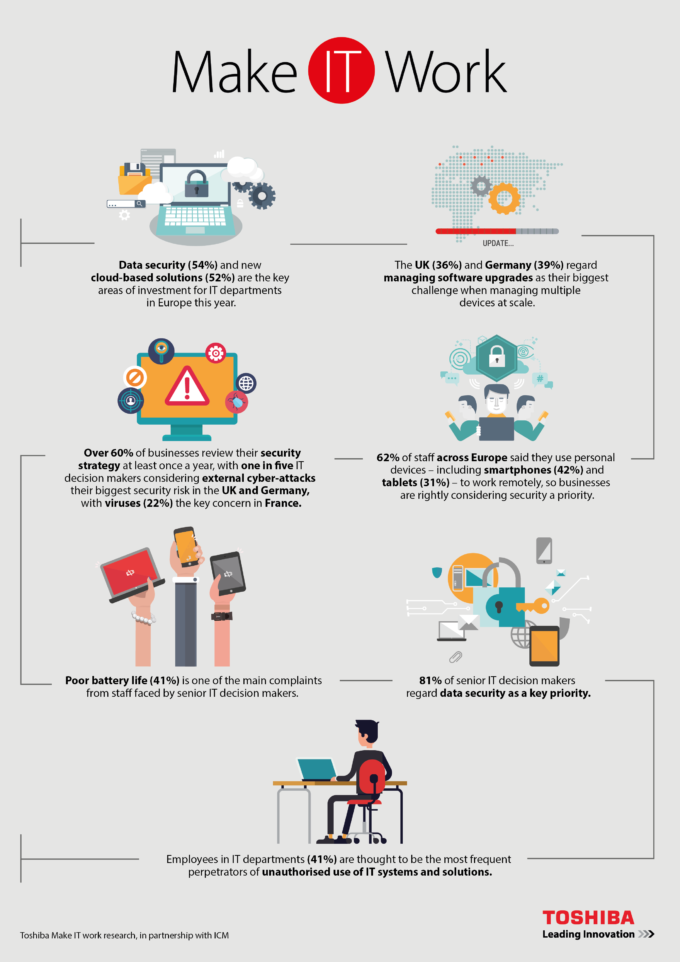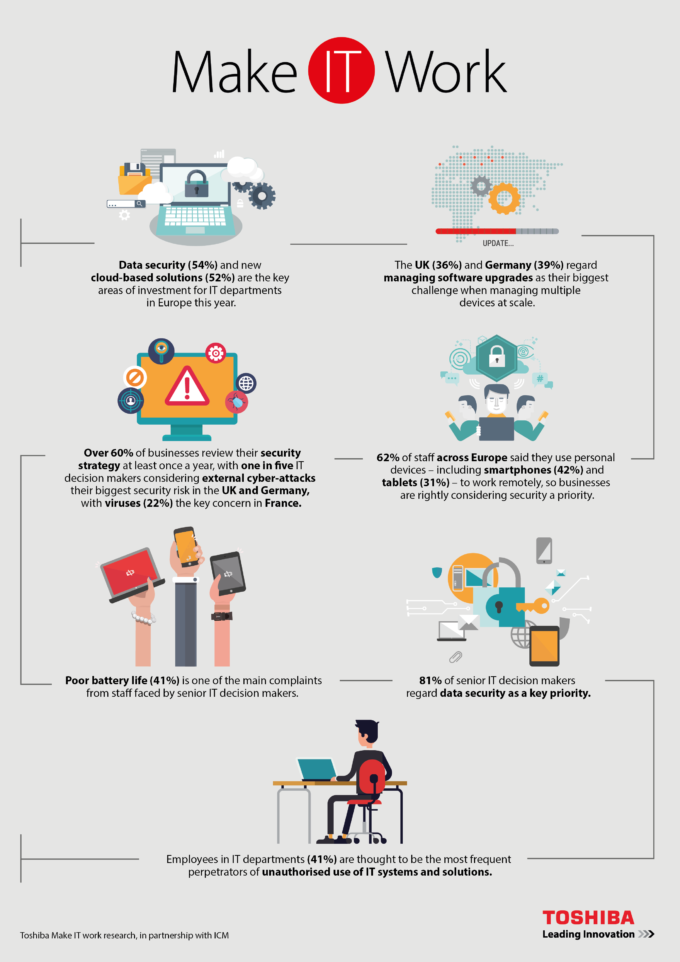 Toshiba Europe says: "Technological innovation continues to permeate the consumer and professional worlds. It acts as a great enabler of efficiency but, as senior IT decision makers across the continent have echoed, it also needs to be implemented in a way that is manageable at scale and ensures a reliable, secure and consistently connected experience.
"However, with 81% of senior IT decision makers regarding data security as a key priority for IT security spend and cyber-attacks being seen as the biggest threat to corporate security, it's crucial IT teams practice what they preach," adds Neil. "Our research reveals that unauthorised use of IT systems and solutions is common practice within organisations and employees in UK IT departments (34%) are thought to be the most frequent users to bend the rules. We hope our guide helps to make senior IT decision makers more conscious of these types of potential pitfalls, as well as any vulnerabilities in their processes and infrastructure."