Unsurprisingly, the ASUS ROG Zephyrus (GX501VI)'s screen doesn't use PWM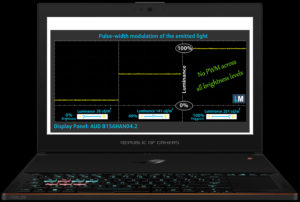 Not only does the ASUS ROG Zephyrus boast an excellent 15.6-inch IPS panel with good properties, aside from being a bit dim for an IPS display, but it's also excellent for gaming as it incorporates the so-called G-Sync technology for smooth gameplay and high refresh rate of 120 Hz. More importantly, though, it will keep your eyes safe when working on it for long periods of time.
Just like most G-Sync-enabled displays, the ASUS ROG Zephyrus' screen doesn't use PWM (it's flicker-free) so it won't put any unnecessary strain on your eyes even if you are extra sensitive to PWM.
If you wish to browse for more gaming laptops with similar PWM rating, we suggest looking into our PWM ranking table and also consider purchasing our Health-Guard profile that reduces the negative blue light emissions.
You can find the available configurations here: http://amzn.to/2hJCLMT