Vivo AiO V241 is ASUS' new affordable all-in-one slim-bezel PC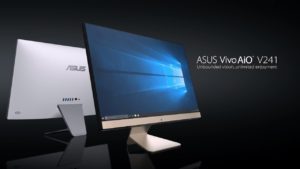 ASUS just announced its new all-in-one computer – the Vivo AiO  V241. With its rather affordable price and elegant design, it is set to bring all-in-one devices to the masses. It's nothing special in terms of specs but it has some design perks that we will cover in this article.
For the price of $1249, you get a 23.8-inch NanoEdge display that we are going to say a few words about in a moment. Other than that, the Vivo AiO V241 is equipped with an Intel Core i5-7200U which is a notebook processor but it delivers reasonable performance and draws little power (it's a ULV chip). The CPU is backed by a NVIDIA GeForce GTX 930MX with 2 GB of VRAM which does not make the device game-centric but helps with media consumption. You also get 8 GB of fast DDR4 RAM and 1 TB of HDD storage but you can opt for an SSD instead.
The device comes with two speakers that ASUS claims to provide a clear and full sound with smoother and more powerful bass thanks to the advanced bass reflex design used. However, this is not the most outstanding feature of the Vivo AiO  V241. AS we mentioned earlier, the all-in-one PC features a 23.8-inch NanoEdge which resembles the ultra-slim bezels on three of its sides. The display is framed by just 2 mm-thick bezels which give it an edge-to-edge look and an 88% screen-to-body ratio.
Although ASUS does not provide information about the screen's technology we assume that it's an IPS panel due to the wide 178-degrees viewing angles the company claims. The screen also features Full HD (1920 x 1080p) resolution, a matte anti-glare coating and 100% sRGB color gamut coverage which we quite appreciate. The screen utilizes ASUS' Tru2Life Video technology which increases the sharpness and contrast of the image.
Connection options are not too many but they cover the basics – you get four USB 3.1 Type-A ports, an HDMI, Ethernet and DC connector on the back of the device and a single USB 2.0 port and 3.5 mm headphone jack on the bottom edge of the screen.
You can check out all available ASUS all-in-one devices over here: http://amzn.to/2vErO28