We are experiencing touch screen problems (ghost touches) with the Lenovo Yoga 3 (14-inch)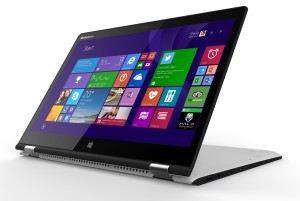 In the past few days, we've shown you some good results that the new Yoga 3 (14-inch) scored in our tests, but it seems that we found one not so good "feature" as well. Sometimes, once or twice per day, our sample device starts to click and drag things by itself. It lasts for 10-15 seconds.
It looks like the issue is hardware-related and most probably the digitizer has some issues or it's faulty.
Since the device we're testing is an engineering sample, at first we thought that the problem could be an isolated case, but we stumbled across some YouTube videos uploaded by users with the same problem (you can see one below).
Of course, we've already contacted Lenovo and we're waiting for their answer. We hope that the issue will turn out to be a software problem, but in both cases, we'll share Lenovo's point of view officially. In the meantime, you can expect our in-depth review.
Update 1: Our detailed review is here:
http://laptopmedia.com/review/lenovo-yoga-3-14-inch-review-a-powerful-convertible-that-you-can-actually-afford/
Update 2: We have an answer from Lenovo – here is the potential solution:
http://laptopmedia.com/news/lenovos-solution-to-the-yoga-ghost-touches-problem/