We are ready with the battery tests of the new HP Pavilion 17-f200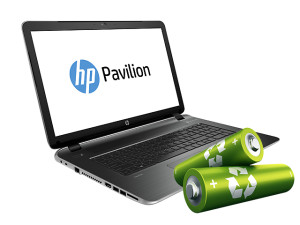 For the upcoming weeks, we are going to release a full review of the new HP Pavilion 17-f251nu – a budget multimedia laptop with great hardware but somehow disappointing design and battery life. You will be able to read a lot more on the subject when we release the full review, but for now we can share the results from our battery tests.
Despite the energy-efficient hardware – Intel Core i7-5500U and the not so power-hungry GPU from NVIDIA – GeForce 840M, the notebook lasted only for 252 minutes (4 hours and 12 minutes) of web browsing. Even the small amount of pixels (1600 x 900) of the HD+ screen didn't help improve the situation. As for video playback and gaming, the results are accordingly: 236 minutes (3 hours and 56 minutes) and 80 minutes (1 hour and 20 minutes). Really unsatisfying result for a 17-incher with a 4-cell battery.
All tests share the same conditions – Wi-Fi turned on, Bluetooth is off, power saver is on and screen brightness is set to 120 cd/m2. Stay tuned for our full review of the model, because you might the new Pavilion 17 still holds some tricks up its sleeve.