Western Digital introduces two new M.2 SSDs with up to 3.4GB/s reads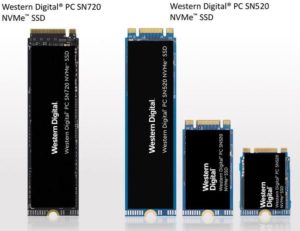 Western Digital did it again with its brand new PC SN720 and PC SN520 NVMe SSDs. The company is set to deliver high-quality drives that offer great speeds and productivity as well as power efficiency.
The new SSDs come in a variety of form factors and capacities. The PC SN720 starts at 256GB and can be found anywhere up to 2TB with only M.2 2280 form factor. The PC SN520 has lower capacities starting from 128GB and going up to only 512GB but it can be found in the M.2 2280 size, M.2 2242 size, and even as small as M.2 2230 making it perfect for ultra-portable devices and IoT installations.
What's maybe most interesting is the speed of the drives. They can reach up to 3.4GB/s read and 2.8GB/s write.
There is no exact information on the controller used but what we know is that it is manufactured on a 28nm process. It uses DDR4 RAM and  8 NAND channels. All the benefits we see are said to be thanks to the so-called vertically integrated architecture. Here is what Senior Director of Client SSD, Devices Business Unit, Western Digital, Eyal Bek has to say:
With this new vertically integrated SSD platform, we are able to optimize the architecture to our NAND for low latency and power efficiency, and most important, for the growing range of applications benefiting from NVMe, the scalable architecture supports a range of capacity and performance points, while streamlining system qualification to improve time-to-market for our customers.
Here you can see all notebooks from our system that are compatible with NVMe SSDs: http://laptopmedia.com/laptop-m-2-ngff-ssd-compatibility-list/
And here you can see currently available NVMe SSDs:  Buy from Amazon.com (#CommissionsEarned)