What can you actually do with a notebook (Dell Inspiron 5545) that costs just under €500? Play GTA V, of course.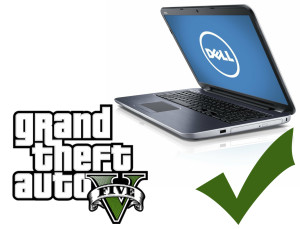 More than a week ago we published an interesting review regarding Dell Inspiron 5545 – one of the company's AMD-based budget notebooks. Being a wallet-friendly machine, the Inspiron 5545 doesn't offer much, but it sure did surprise us with its performance, especially in the graphics department.
According to our gaming tests, the machine is capable of running relatively smooth GTA V in low settings and HD resolution. This might not seem as much, but given the price point of under €500 it seems like a good deal. The impressive performance is mainly due to the asymmetrical CrossFire configuration that the machine features. It consists of the Radeon R6 iGPU integrated inside AMD A10-7300 (CPU rankings) and AMD Radeon R7 M265 (2GB DDR3) (GPU rankings) discrete GPU. You can even run some of the latest games in higher settings as you can see from the table below.
You can also take a look at the full review to see what the Inspiron 5545 is all about: http://laptopmedia.com/review/dell-inspiron-5545-with-amd-a10-7300-review-when-performance-exceeds-the-price/
And here are all the configurations available: http://amzn.to/1Fnz2EZ


| Tomb Raider (768p, Low) | Tomb Raider (768p, Medium) | Tomb Raider (768p, Max) |
| --- | --- | --- |
| 44 fps | 23 fps | 11 fps |

| F1 2014 (768p, Low) | F1 2014 (768p, Medium) | F1 2014 (768p, Max) |
| --- | --- | --- |
| 33 fps | 25 fps | 17 fps |


| Thief (768p, Low) | Thief (768p, Medium) | Thief (768p, Max) |
| --- | --- | --- |
| 11 fps | 5 fps | 3 fps |

| GTA 5 (768p, Low) | GTA 5 (768p, Medium) | GTA 5 (768p, Max) |
| --- | --- | --- |
| 33 fps | 11 fps | 6 fps |