Winter sales at Steam – get the game you've been waiting for the whole year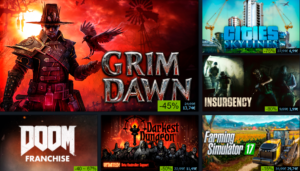 Ho-ho-ho. Christmas is here! At last! And you are a gaming fanboy, you will find this short publication really intriguing. We have some good news – the popular Steam platform has some pretty nice deals on some of the best 2016 games for you.
To be able to fully enjoy these titles you will need a powerful computer and if you don't have one, you may wish to check the currently available deals on Amazon: http://amzn.to/2ijQCoB
Alright, so let us go back to Steam and have a look at some of the names. The Winter Sale include something for every taste and pocket. For example, you can spend only $20 for games such as Deus EX: Mankind Divided, DOOM and Fallout 4. If you have $40 dollars to spare and treat yourself, you could go for Watch Dogs 2 or Dishonored 2. On the other hand, if your choice is GTA V, it will only cost you a tad more than Fallout 4.
It must be also noted that the most of the top-selling games have been discounted, so don't hesitate to visit the website.