Acer Aspire V 15 (V3-574G) review – a successful mix of power and style

The Aspire Nitro line was definitely a successful move on Acer's part, and it didn't take them long to grasp that concept. Acer started to popularize the new line, launching lots of configurations suitable for every type of work – there are V15 Nitro notebooks with the high-performance NVIDIA GeForce GTX 960M for gamers, V15 Nitros with the mid-range GeForce 940M for business clients and mainstream market, Nitros with Core i7 processors for CPU demanding applications, and Nitros with Core i5 for everyday use.
Basically, no matter what you are going to do with your laptop, chances are that there is a Nitro configuration which will suit your needs. The eponymous lines began to blur, and the Nitro line, which was originally targeted toward the gaming community, started to look like a nice-looking, well-constructed mainstream laptop. But gamers want special treatment, and everyone in this business knows that. This is why Acer is going to divide its upper-range mainstream notebook business in three strictly differentiated and more advanced sections – the new Predator line for gamers (just like ASUS and their Republic of Gamers), the Aspire V Nitro line for users who need a high-performance, but well-balanced machine, and Aspire V, which combines an elegant design, good performance, and an affordable price.
Today we're going to introduce you to Aspire V 15 (V3-574) – we have our hands on an engineering sample unit. Besides the great looks, it has a last-generation Intel processor, up to 16GB RAM and 802.11ac dual-band Wi-Fi. One of the most interesting things is the Acer BluelightShield, which reduces the blue-light emission from the screen, which can be harmful to your eyes. There are a lot more features we want to talk about so let's go to the detailed tests…
Contents
What's in the box?
Since, as we already said, we only have an engineering sample, we can't be sure what the production unit's box will contain, but we know what to expect. The same as with Aspire V15 Nitro – just the manual and a charger, which in our case is a 65W A11-065N1A.

Design and construction
Although Nitro's design turned out to be pretty successful, Acer have put some thinking into a slight modification of the lid. You'll notice that right away – the top cover is imprinted with Acer's nano-imprint technology, creating a stylish and unique look, especially when viewed at certain angles. In addition to being beautiful, we should also mention that it's quite study, mostly because it's made out of aluminum. That's why it has plastic edging at the top, where the antennas are.
The finely textured "acer" logo highlights the luxurious appearance, and we can definitely say that the new Aspire V15 has all the markings of a high-end package. The only tiny drawback is that you can easily leave fingerprints on the cover, but they aren't that visible.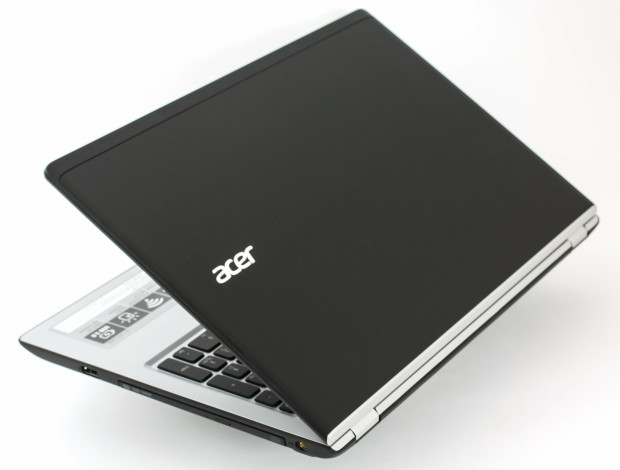 Let's take a look at the interior. The first thing we noticed upon opening the lid is that the screen hinges are pretty tightened, but you can still bring the display up easily in the first few centimeters, which is very handy since you can open your laptop with just one hand. Also, the screen can be pushed back to 160°.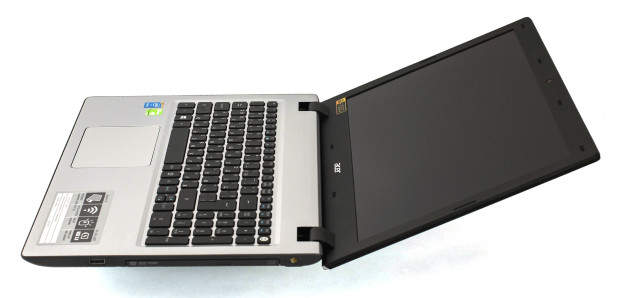 The palm rest (and the whole panel around the keyboard) is made of plastic, which looks and somewhat feels like aluminum. The power button is above the NumPad section, but you won't accidentally turn your computer off because it does nothing if pressed for less than 1.5 seconds. If you press it for 1.5 – 4.0 seconds, you'll get the "Acer Power Button" app which asks you what you want to do – Sleep, Hibernate or Shut down your PC. If you hold the button for more than 4 seconds, you'll instantly power off the system.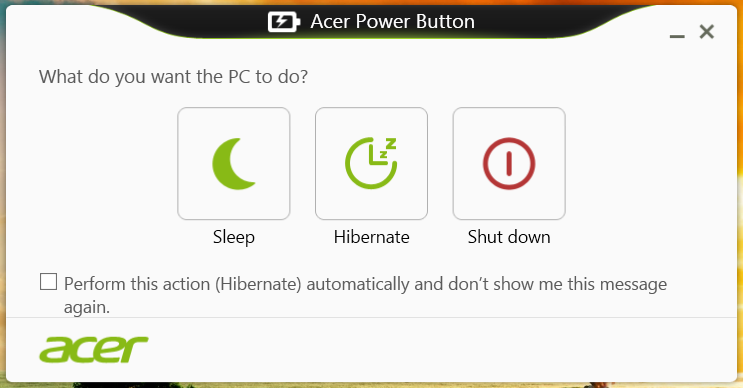 A nice feature is the keyboard backlight – we know that most of you don't look at the keys when you type, but it's useful when using the Fn buttons. All of the keys have 1.6 mm of travel and 0.3 mm keycaps indents. With this Acer is attempting to improve the typing experience, and although we're not sure that we would have spotted the 0.3 mm dent in the keys if they hadn't told us, we liked the comfort and feedback that they keyboard provides.
The trackpad has a rather large surface area – 105 x 78 mm. The folks at Acer call it "Precision touchpad", and it supports tap, swipe, scroll, and zoom gestures. We found it very easy to work with.

Acer Aspire V15 (V3-574) has a relatively thin (23.9 mm) and light (2.26 kg) body, yet it is enough to fit a Kensington lock port, 77 mm air vents, VGA, Ethernet LAN port, HDMI, 3.5 audio jack and two USB 3.0 ports (one of which supports "Power-off USB charging" so that you can charge you phone or tablet even when the computer is off).
Display and sound
The display of Acer Aspire V15 (2015, V3-574G) consists of a Full HD (1920×1080) IPS multisensor panel with matte anti-glare coating, manufactured by LG Display (model number LP156WF4-SPL1). The display takes advantage of the "Acer BluelightShieldTM" technology, courtesy of the optical engineers at Acer. It reduces blue light intensity for the panel. This is an important achievement for two main reasons:
The WLED backlight uses blue (not white) LEDs, covered with yellow phosphorus.
Their blue light has a higher energy in the visible spectrum, compared to the other colors.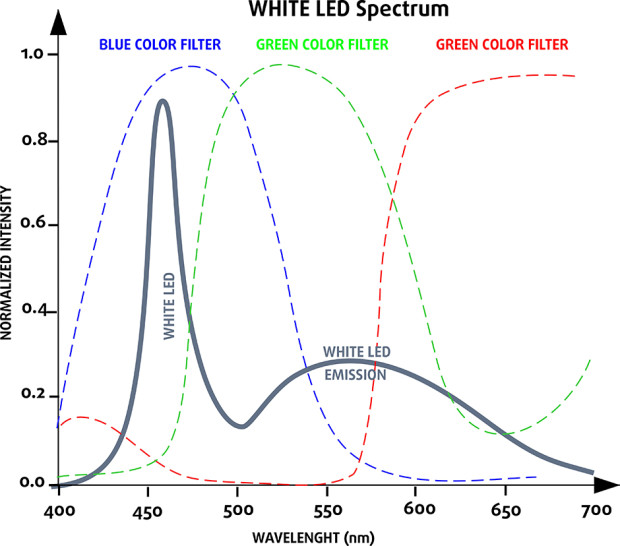 Light with wavelengths of between 400 and 500 nm, emitted by modern LEDs, is suspected of damaging the eye macula – the part of the retina that is in charge of central (non-peripheral) sight (the photoreceptor cones stop functioning, thus leading to loss of detail in the images viewed up close and at a distance).
The diagonal of the screen in Acer Aspire V15 (2015, V3-574G) is 15.6 inches, and the resolution is 1920 x 1080 pixels. The aspect ratio is 16:9 and the pixel density – 141 (pixel step: 0.1799 x 0.1799mm). The display can be considered retina (the human eye stops distinguishing individual pixels), when viewed from distance equal to, or greater than 61 cm.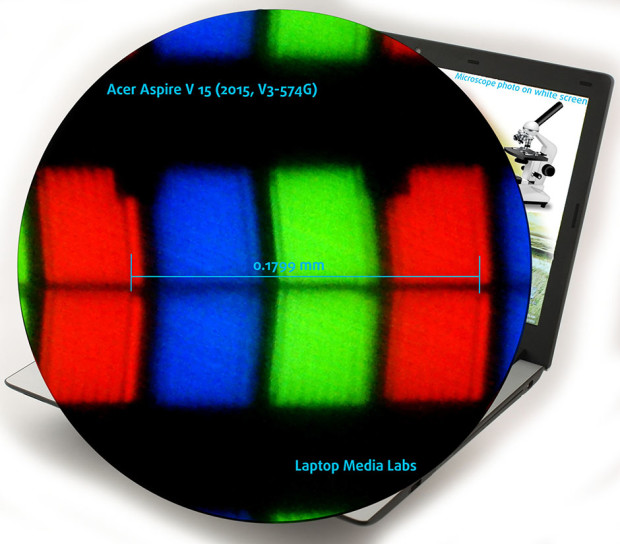 Due to the use of an IPS panel, viewing angles are excellent.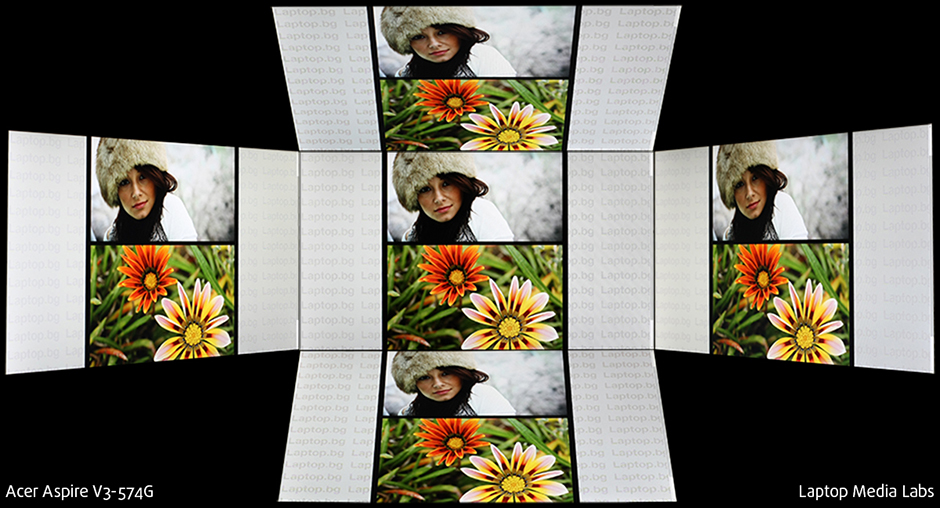 The measured maximum brightness on the surface is 240 cd/m2, with a deviation of only 7%. Also, color temperature is 7290K – a bit colder than the optimal 6500K (daylight type). There are no unacceptable deviations.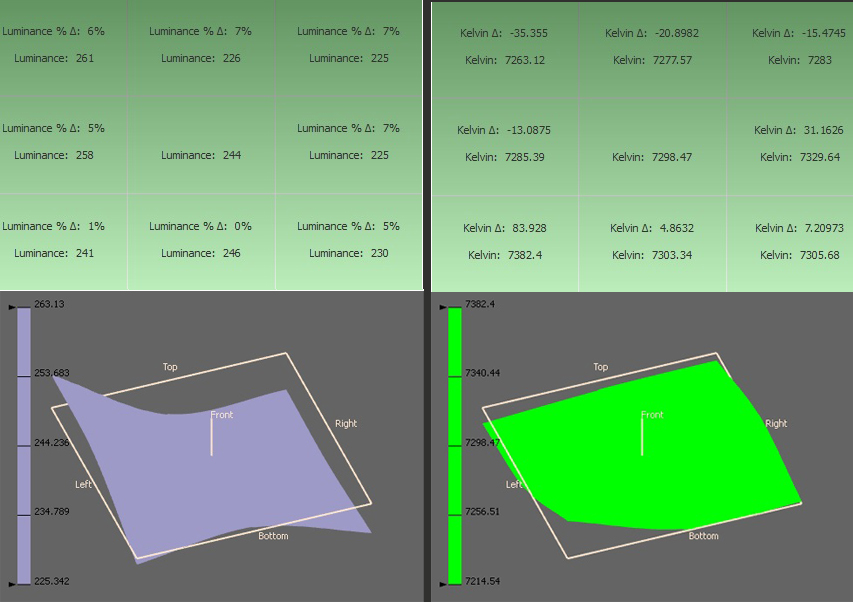 The luminance graph is almost identical to the standard one. The image will have accurately distributed brightness levels.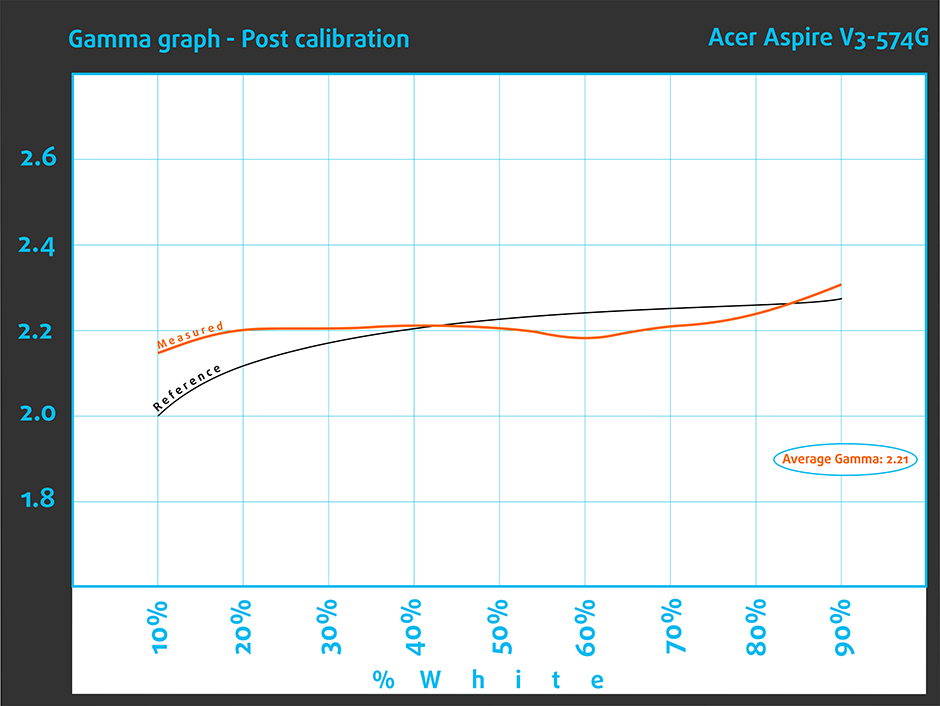 Color reproduction
To put things into perspective, we would like to give you a little introduction into the sRGB and Adobe RGB color gamuts. The CIE 1976 Uniform Chromaticity Diagram represents the spectrum of colors visible to the human eye, thus giving you a better perception of color gamut coverage and color accuracy. Inside the black triangle you will see the standard color gamut (sRGB), used by millions of people in HDTV and on the Web. As for Adobe RGB, it is used to work with professional cameras and monitors when preparing print. Basically, colors inside the black triangle are used by everyone, and so reproducing them accurately is key in a quality display.
The yellow triangle represents the area of the color gamut that the display covers.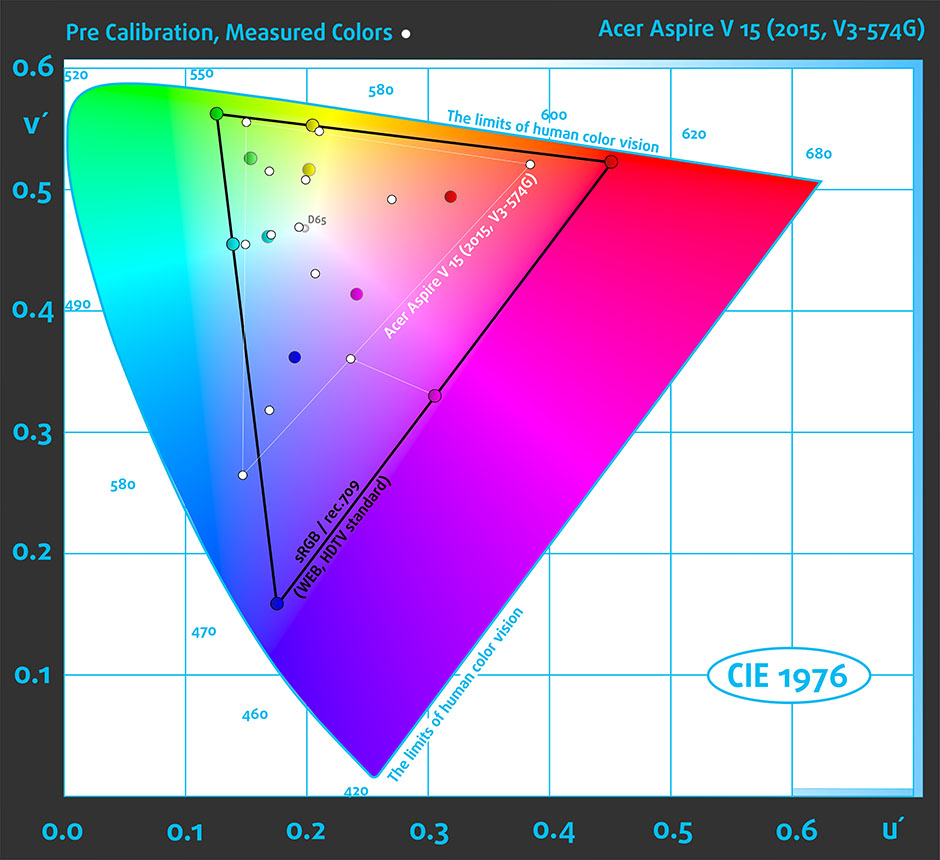 The image below is practically the same, but with the recorded results – the one on the left is pre-calibration, while the one on the right is after. The colored circles represent the reference colors, the white circles being the result. You can see the main and additional colors with 100% and 50% saturation inside the sRGB gamut.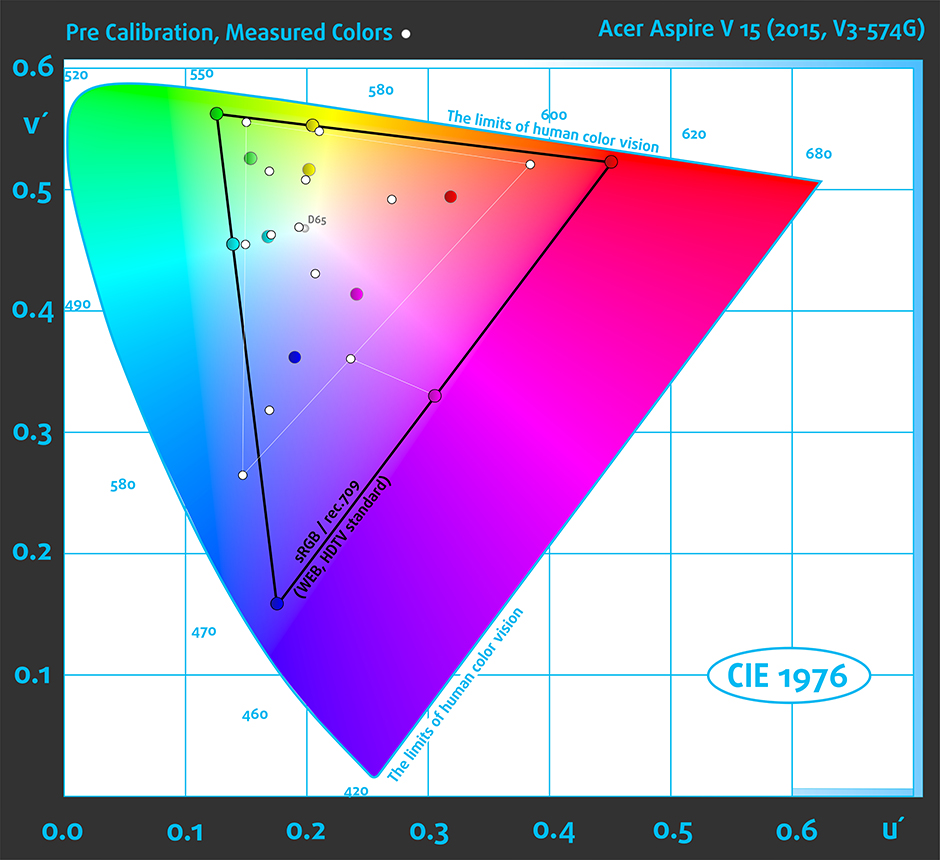 We tuned the display at 140 cd/m2 brightness and 6500K color temperature. For this calibration we used X-Rite i1Display Pro. We got a contrast ratio of 670:1.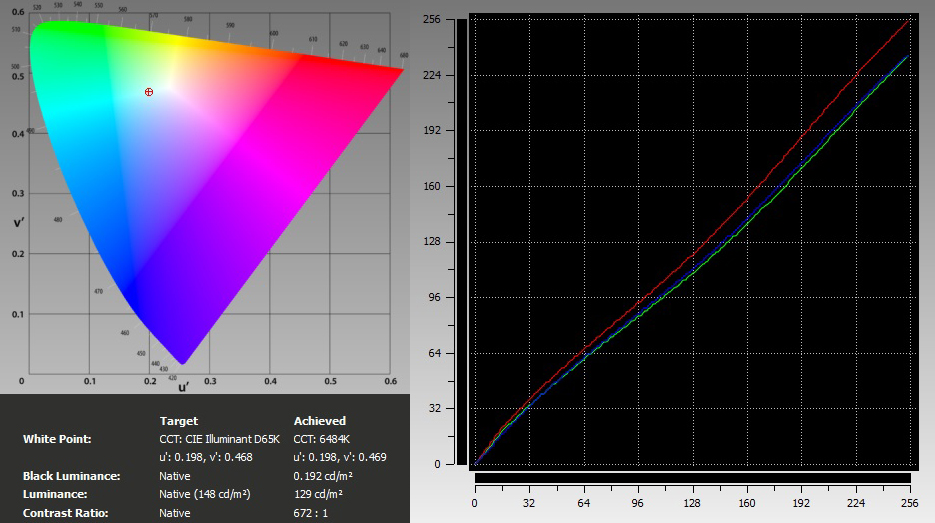 With the help of 24 commonly used colors we checked the color accuracy of the panel. Colors that we used represent skin tones, grass, blue sky, orange etc. Most of them are in the middle of the color gamut, and after calibration their accuracy was really high – average DeltaE 2000=0.9. A lower score is desirable, and deviations under 1.0 can be detected only with lab equipment.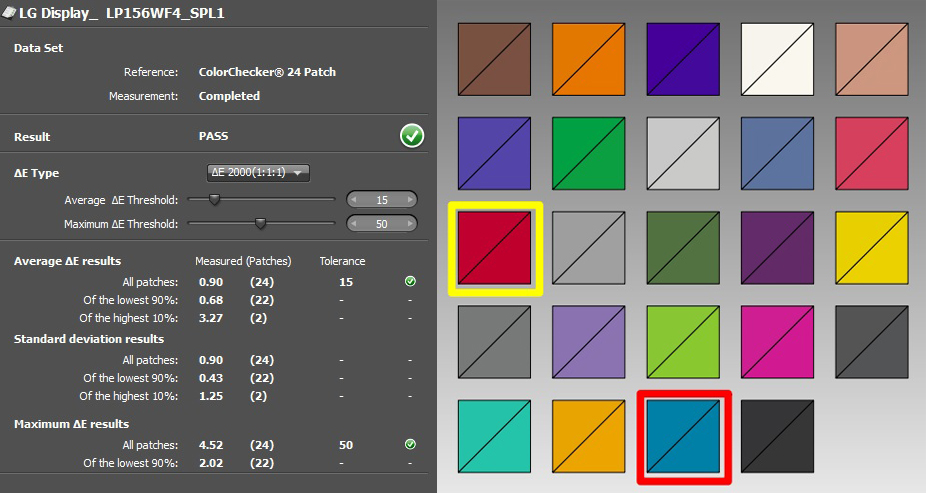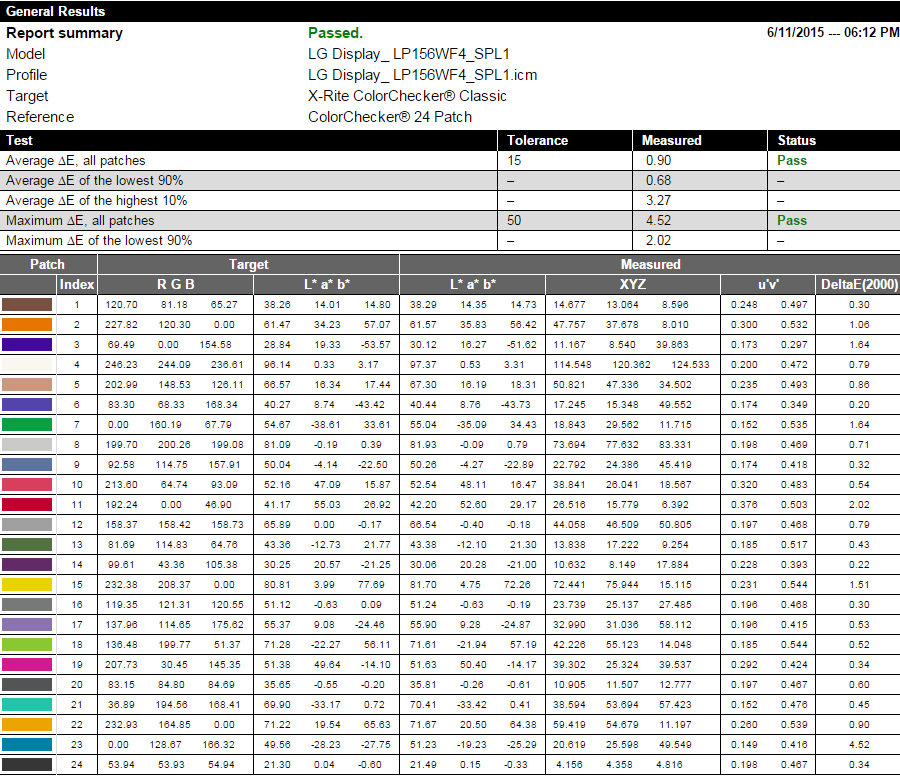 Pulse-width modulation (PWM, Screen flickering)
Acer Aspire V15 (2015, V3-574G)'s display uses pulse-width modulation, but at least the frequency of the emitted light is high – 25 kHz. That means it can lead to eye fatigue only for users with sensitive eyes.

Gaming capabilities (Response time)
The image below is mostly useful for gamers. It illustrates the response time of the pixels in modes from "Black" to "White", plus "White" to "Black" for levels from 10% to 90% and back.
We measured Fall Time + Rise Time = 26.6 ms.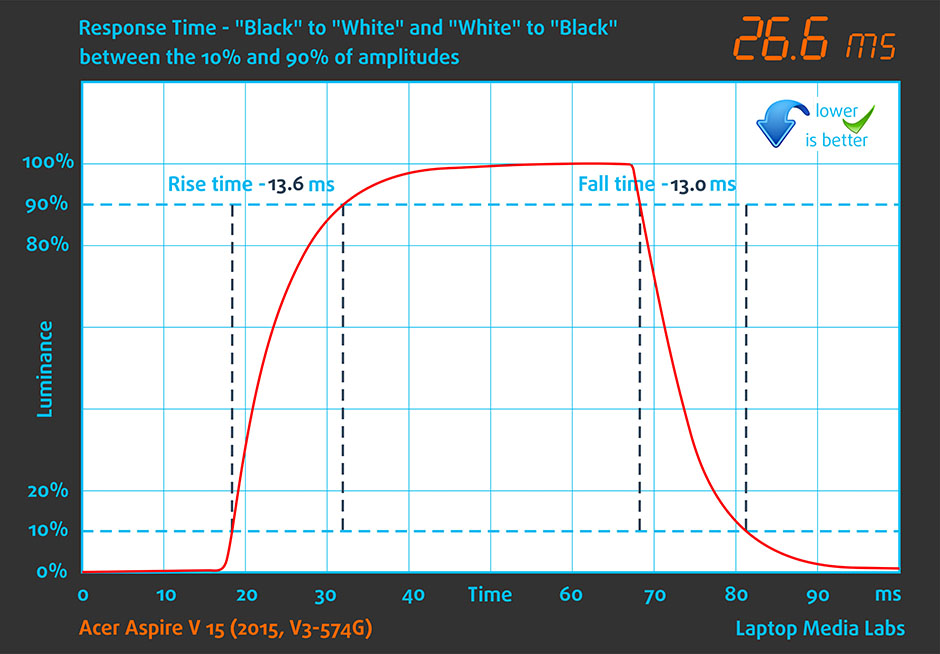 Comparison with competitors
If we assume a distance of 58cm (~23in) between the human eye and the notebook monitor, then normal (20/20) vision would require a pixel density of at least 150ppi in order to interpret an image as perfectly detailed.
Laptop
Results
Result
difference
Price
Price
difference
Acer Aspire V15 (V3-574G) 15.6-inch, LG LP156WF4-SPL1, 1920 x 1080 pixels
141.21
Dell Inspiron 5758 (17 5000) 17.3-inch, 1920 x 1080 pixels
127.34
-9.82%
Toshiba Satellite L50-C 15.6-inch, LG Display, 1920 x 1080 pixels
141.21
Acer TravelMate P236 13.3-inch, AU Optronics, 1920 x 1080 pixels
165.63
+17.29%
Dell Inspiron 5558 (15 5000) 15.6-inch, 1920 x 1080 pixels
141.21
Higher panel brightness is of key importance for visual comfort when working outside or in a brightly lit room.
Laptop
Results
Result
difference
Price
Price
difference
Acer Aspire V15 (V3-574G) 15.6-inch, LG LP156WF4-SPL1, 1920 x 1080 pixels
240
Dell Inspiron 5758 (17 5000) 17.3-inch, 1920 x 1080 pixels
322
+34.17%
Toshiba Satellite L50-C 15.6-inch, LG Display, 1920 x 1080 pixels
263
+9.58%
Acer TravelMate P236 13.3-inch, AU Optronics, 1920 x 1080 pixels
236
-1.67%
Dell Inspiron 5558 (15 5000) 15.6-inch, 1920 x 1080 pixels
207
-13.75%
Delta E is a CIE measurement unit of color difference. Higher values indicate that the display produces less accurate colors. (lower results are desirable).
Laptop
Results
Result
difference
Price
Price
difference
Acer Aspire V15 (V3-574G) 15.6-inch, LG LP156WF4-SPL1, 1920 x 1080 pixels
0.90
Dell Inspiron 5758 (17 5000) 17.3-inch, 1920 x 1080 pixels
1.25
+38.89%
Toshiba Satellite L50-C 15.6-inch, LG Display, 1920 x 1080 pixels
5.84
+548.89%
Acer TravelMate P236 13.3-inch, AU Optronics, 1920 x 1080 pixels
3.49
+287.78%
Dell Inspiron 5558 (15 5000) 15.6-inch, 1920 x 1080 pixels
0.87
-3.33%
The sRGB color gamut, introduced as a standard for the Web, shows the percentage of colors used on the Web that can be displayed on the screen of the device being tested (higher values are better).
Laptop
Results
Result
difference
Price
Price
difference
Acer Aspire V15 (V3-574G) 15.6-inch, LG LP156WF4-SPL1, 1920 x 1080 pixels
64
Dell Inspiron 5758 (17 5000) 17.3-inch, 1920 x 1080 pixels
95
+48.44%
Toshiba Satellite L50-C 15.6-inch, LG Display, 1920 x 1080 pixels
91
+42.19%
Acer TravelMate P236 13.3-inch, AU Optronics, 1920 x 1080 pixels
60
-6.25%
Dell Inspiron 5558 (15 5000) 15.6-inch, 1920 x 1080 pixels
62
-3.13%
Conclusion
The display of Acer Aspire V15 (2015, V3-574G) has wide visibility angles, high contrast ratio, good eye-protection and color accuracy, courtesy of 'Color Checker'. It will be good for web browsing and video playback. Due to the poor sRGB color gamut coverage, the colors with 100% saturation will not be accurate (they're practically missing and will be replaced by the closest options available), and the display won't be suitable for specialized work, especially image processing.

Sound
From a subjective perspective, the Acer Aspire V 15 (2015, V3-574G) produces really good sound. The tones are balanced and clear throughout the whole frequency range (low to high). They're sufficiently detailed, as a result of which the sound can be characterized as good for the given price range. The frequency response peaks near the area of 500Hz – 1kHz, which matches the main frequency spectrum of the human voice. The rest fits into the range of +/- 3 dB, which is very rare for this type of device. We give it an excellent score.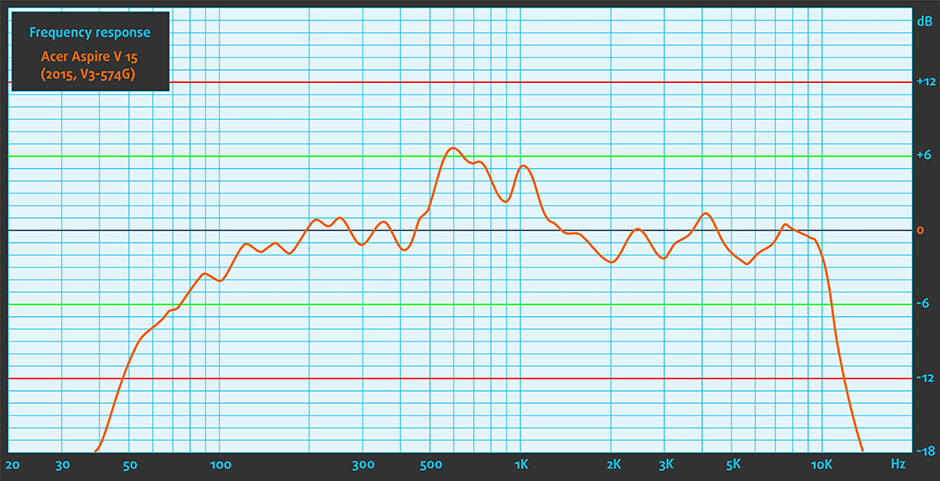 Specs sheet
These technical specifications refer only to the particular device being tested in this review. Laptops from the same series could have different characteristics and features.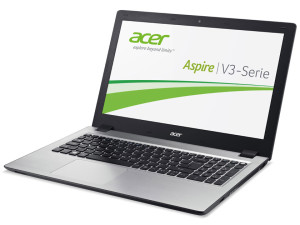 | | |
| --- | --- |
| CPU | Intel Core i7-5500U (2-core, 2.40 – 3.00 GHz, 3MB cache) |
| RAM | 16GB (2x 8192MB) – DDR3, 1600Mhz |
| GPU | NVIDIA GeForce 940M (4GB DDR3) |
| HDD/SSD | Hitachi Travelstar Z5K1000 (1TB, 5400 rpm) |
| Display | 15.6-inch (39.62 cm) – 1920 x 1080 pixels (Full HD), IPS matte |
| Optical Drive | DVD writer |
| Communication | LAN 10/100/1000 Mbit/sec, Wi-Fi 802.11ac, Bluetooth 4.0 |
| Features | 2-in-1 card reader (SD/SDXC), backlit keyboard, 1x USB 3.0 ports, 2x USB 2.0 ports, Web Camera, HDMI 1.4, VGA |
| Battery | 37 Wh (4-cell) |
| Height | 23.90 mm (0.94") |
| Weight (with the battery) | 2255 g (4.97 lbs) |
| Power supply weight | 329 g (0.73 lbs) |
Acer Aspire V15 (V3-574G) configurations
Drivers
The configuration we tested came with a pre-installed Linux distribution. You can find Windows drivers on the official support page:
http://us.acer.com/ac/en/US/content/drivers

Battery Life
Acer Aspire V15 (V3-574) has a relatively small battery, with a capacity of just 2142 mAh (37 Wh). That's why we're not expecting miracles from our battery life tests, which include Web Surfing, Video Playback and 3D Gaming. We run all tests with connected Wi-Fi, 120 cd/m2 brightness and Power Saver mode.
Web Surfing
As usual, we start with the Web browsing test, which uses a custom script to automatically load various popular pages.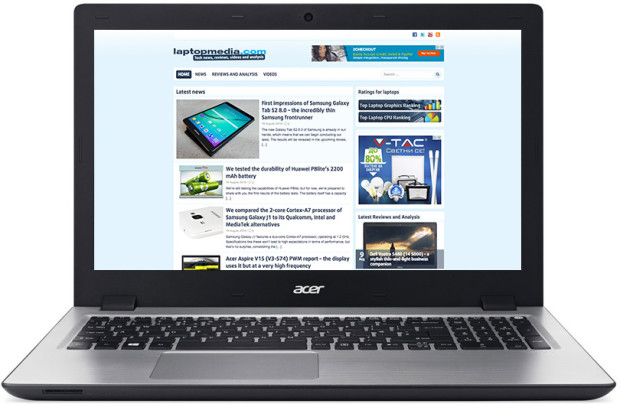 194 minutes (3 hours and 14 minutes) on one charge isn't a great result, but you'll have enough time for urgent tasks on the go.
Video Playback
For our Video playback test we use a 720p HD movie.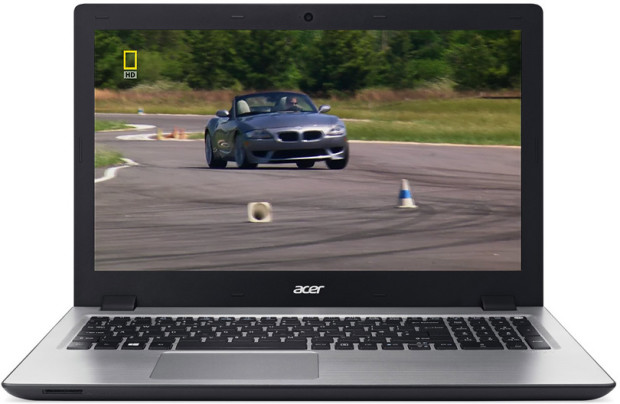 You can watch a movie or two in the 270 minutes (4 hours and 30 minutes) of battery life, so we can't complain much here.
3D Gaming
To achieve accurate simulation, we used the Metro Last Light benchmark running on loop with graphics set to minimum.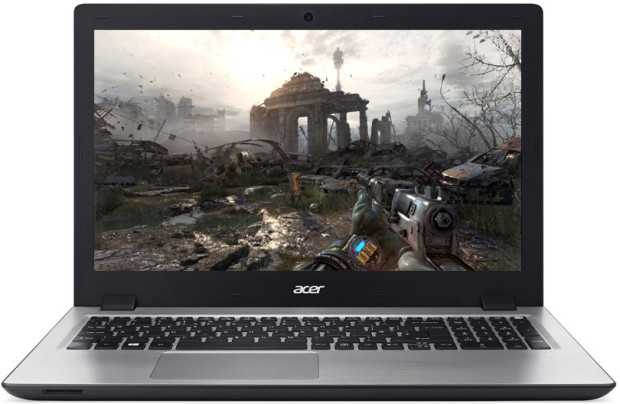 When the GeForce 940M comes into play, Aspire V15 lasts only 61 minutes (1 hour and 1 minute) away from the grid.

CPU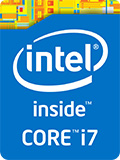 Intel Core i7-5500U is a high-end processor released on January 05, 2015. It is part of the "Broadwell" generation and operates at a base frequency of 2.40GHz. If a higher frequency is needed, its two cores can overclock, and if they both operate in tandem, they go to 2.9GHz. The frequency goes up to 3GHz for only one core.
The chip is equipped with 128KB of first level cache, 512KB of second level cache, and 4MB of third level cache. The Core i7-5500U has been developed using a 14nm process, allowing for the integration of the Intel HD Graphics 5500 controller. It operates at a base frequency of 300MHz, while Turbo Boost can increase that to 950MHz. TDP consumption of the whole SoC (System on a Chip) is 15 watts with a maximum operating temperature of 105C.
Intel Core i7-5500U supports TurboBoost (increasing the clock frequency when necessary), HyperThreading (additional virtual core for every physical one), PCI Express 3.0, DDR3/L/ 1333/1600 memory, AVX, AVX2.0, FMA, QuickSync and the SSE4 instruction set.
The official Intel Core i7-5500U web page can be found here:
http://ark.intel.com/products/85214/Intel-Core-i7-5500U-Processor-4M-Cache-up-to-3_00-GHz
You can take a look at our CPU rating system, to see where  the Intel Core i7-5500U ranks:
http://laptopmedia.com/top-laptop-cpu-ranking/
Here you can find more information about Intel Core i7-5500U:
http://laptopmedia.com/processor/intel-core-i7-5500u/
Results are from our Photoshop benchmark test (the lower the score, the better)
Results are from the Fritz chess benchmark (the higher the score, the better)
Fritz
Fritz is a chess benchmark which tests the computing capabilities of the CPU with various chess moves. The Intel Core i7-5500U managed to get 5.820 million moves per second. In comparison, one of the most powerful PCs, Deep(er) Blue, was able to squeeze out 200 million moves per second. In 1997 Deep(er) Blue even beat the famous Garry Kasparov with 3.5 to 2.5.

GPU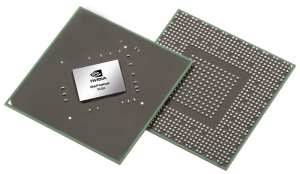 The GeForce 940M is a direct successor to last year's 840M and is placed in the mid-range. It is commonly used as a multimedia GPU and light gaming. It's very similar to its predecessor, GeForce 840M, but its clock speed is slightly higher. GeForce 940M is Maxwell-based and uses the GM108 chip.
NVIDIA GeForce 940M is built through a 28nm manufacturing process and has 384 shader units, 24 TMUs and 8 ROPs (64-bit interface). It can be found in modifications with 2GB or 4GB DDR3 memory.
940M's TDP is 33 watts and it is mostly used in mainstream laptops. It supports GPU Boost 2.0, Optimus, PhysX, CUDA and GeForce Experience.
Here you can download the latest drivers for GeForce 940M:
http://www.geforce.com/drivers
See where the 940M is placed in our Top Laptop Graphics Ranking page:
http://laptopmedia.com/top-laptop-graphics-ranking/
Here you can find detailed specs and more information on the model:
http://laptopmedia.com/video-card/nvidia-geforce-940m-4gb-ddr3/
Results are from the 3DMark: Fire Strike (Graphics) benchmark (higher the score, the better)
Gaming Tests
Acer Aspire V15 (V3-574G) is not a gaming machine, but we're still going to check if its NVIDIA GeForce 940M could run some graphic-intensive games, at least at low or medium settings.

| Metro: LL (768p, Low) | Metro: LL (768p, Medium) | Metro: LL (768p, Max) |
| --- | --- | --- |
| 38 fps | 21 fps | 11 fps |


| Tomb Raider (768p, Low) | Tomb Raider (768p, Medium) | Tomb Raider (768p, Max) |
| --- | --- | --- |
| 102 fps | 34 fps | 18 fps |

| F1 2014 (768p, Low) | F1 2014 (768p, Medium) | F1 2014 (768p, Max) |
| --- | --- | --- |
| 52 fps | 38 fps | 37 fps |


| Thief (768p, Low) | Thief (768p, Medium) | Thief (768p, Max) |
| --- | --- | --- |
| 35 fps | 25 fps | 15 fps |

| GTA 5 (768p, Low) | GTA 5 (768p, Medium) | GTA 5 (768p, Max) |
| --- | --- | --- |
| 56 fps | 18 fps | 8 fps |
It's a nice surprise that you can play many games at HD resolution and medium graphics settings. GTA 5 is the only entry that forced us to lower the details between low and medium for smooth gameplay.

Temperatures, Comfort and Stability
In everyday conditions, Acer Aspire V15's CPU operates at around 45-60°C. That's pretty far from the 105°C Tj.max limit of Core i7-5500U, but since we want to be certain that the computer will be stable in the long run, we'll put it through our torture test – 100% CPU and 100% GPU load for 2.5 hours, which is a highly unlikely scenario with real-life software.
100% CPU load
The throttling began almost immediately after we started the 100% CPU load and the temperatures rose to 101°C. The cooling system managed to bring the temperatures down to 97°C, keeping the Turbo Boost at the maximum level of 2.9GHz (for 2 cores), with deviations to 2.8GHz. That's actually a good result because you get a pretty high frequency. After an hour the clock speed remained the same – it was jumping between 2.6GHz and 2.9GHz, but most of the time it stayed closer to the latter value.

100% CPU + 100% GPU load
We added 100% GPU load in order to bring the cooling system to its limits. It's good that the CPU kept a high frequency (with momentary drops).
After 2 hours and 30 minutes, the GPU held a temperature of 87°C (1176 / 960MHz) and the CPU – 97°C (2.5GHz).

Gaming Stability
Immediately after these tests, we ran the Metro: Last Light benchmark on a loop at the highest settings for 20 minutes. We didn't stumble upon any throttling-induced framedrops.

Comfort
Although the upper central area of the keyboard hit 50°C (not bad given the duration of the test), we didn't feel any discomfort while using the machine. The palm rest didn't go beyond 38°C, which is great.
Take a look at what the temperatures on the main panel were.
We noticed that the left air vents are blowing out rather hot air, and fortunately for most, this won't affect your mouse hand.

Conclusion
Given its mainstream class, Aspire V3-574 can definitely offer you a lot. It's relatively thin and light (23.9mm, 2.26kg), and it looks very elegant thanks to the nano-imprint patterning aluminum top cover. It has a sturdy construction, which means that it will probably serve you for years. V3-574 has a comfortable backlit keyboard and a nice, large touchpad that supports many gestures. The IPS screen has great viewing angles and high resolution, but it's not suitable for work with colors due to its poor sRGB color gamut coverage. It's more than enough for typical tasks like surfing the Web or watching movies, and the latter is really enjoyable with the V15's quality speakers.
It's good that Acer's optical engineers have put some thought into taking care of users' eyes. V15's BlueLightShield technology reduces the harmful light of the display. As a drawback, we could mention the relatively short battery life – In our test the Aspire V3-574 shut down after 3 hours and 14 minutes of Web surfing.
Pros
Stylish design
Study construction
BlueLightShield technology reducing the harmful light of the screen
Good sound
Full HD IPS screen
Cons
Relatively short battery life
Poor sRGB gamut coverage